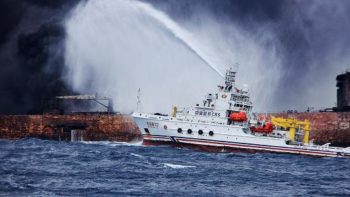 In order to contain the spreading oil spill from the sunken Iranian tanker Sanchi, the Chinese authorities are reviewing a possibility of salvaging the wreck, according to China's Ministry of Transport.
Salvaging of the wreck has been identified as the most effective way of dealing with the oil spill and curbing a potential environmental disaster, and would enable the authorities to search the vessel for bodies of the missing seafarers.
Sanchi was carrying 32 crew members, 30 Iranians and two Bangladeshi nationals, when it collided with Hong Kong-flagged CF Crystal and burst into flames on January 6.
Three bodies have been recovered from the vessel and are yet to be identified, while the hope of finding any survivors has been ruled out.
There is a growing sense of emergency in relation to the oil spill response as the scope of the spill is becoming ever greater.
Last week, Chinese maritime authorities detected four oil slicks at the site of the Sanchi wreck encompassing a total of 101 square miles.
Continuous monitoring of the site has raised fears that the fuel oil may be leaking from the wreck as several unreported oil slicks were detected, including one 2.5 km east of the sunken tanker, China's State Oceanic Administration said on Thursday.
However, in order to proceed with the salvage plan, China needs the approval from the shipowner, namely the National Iranian Tanker Company (NITC).
What is more, the salvage of the wreck would be a very challenging and risky endeavor taking into account that there is a danger of the residual oil remaining in the ship of exploding again. In addition, the process would be hampered by the very size of the vessel's hull which lies at the 115 meters depth of the East China Sea.
The investigation into the incident has been launched, the ministry said, adding that relevant authorities from Iran, Panama, Bangladesh and Hong Kong have been invited to join in the decoding of the ship's black box. Previous estimates from the Iranian Ports and Maritime Organization (PMO) indicated that the decoding of the black box could take up to three months.
The Iranian tanker was carrying 136,000 tons of condensate oil when it sank on January 14, some 530 km from Shanghai and 310 km from Naha, Japan.
Greenpeace experts from East Asia and Japan said that the explosion and sinking of the Sanchi occurred in an important spawning ground for many commercial species such as the bluefin leatherjacket and the swordtip squid. The area is also on the migratory pathway of many marine mammals, such as humpback whale, right whale and gray whale. 
Copyright Ships & Ports Ltd. Permission to use quotations from this article is granted subject to appropriate credit given to www.shipsandports.com.ng as the source.