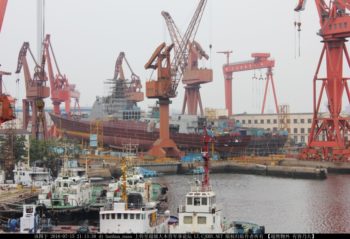 China has unveiled a broad blueprint outlining the reform and transformation upgrade needed for the ailing shipbuilding industry under the country's 13th Five-Year Plan from 2016 to 2020.
China's ministry of industry and information technology issued a statement on Thursday outlining key areas of improvements needed and focus area for the shipbuilders, in particular for state-owned enterprises to support national growth strategy and security.
A broad goal is for China's top 10 shipyards to account for more than 70% of the national market share, and for offshore to attain 35-40% of global market share.
The blueprint also highlighted six main areas that Chinese yards need to work on. They include raising the technological edge and innovation, streamlining of capacity, incorporating intelligent manufacturing, improving overall quality and branding, promoting military-commercial shipbuilding collaboration, and extending the global reach in terms of investments and partnerships.
Chinese shipbuilders would also need to pay greater attention to the environment and promote 'green shipping' and energy efficiency, as well as smart shipping in order to stay ahead of today's rapidly changing technology.
"At present, the international shipping market remains in the doldrums and the shipbuilding industry is facing severe challenges, but there are opportunities amid the difficulties," the ministry statement said.
"There is now an urgent need to address the shipbuilding supply-side structural reform, and comprehensively transform and upgrade the industry in order to achieve sustainable growth," the statement said.
Copyright Ships & Ports Ltd. Permission to use quotations from this article is granted subject to appropriate credit given to www.shipsandports.com.ng as the source.