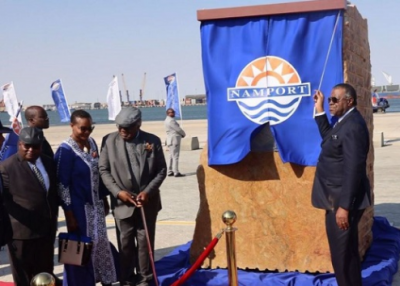 China Harbour Engineering Company has inaugurated its $400m port terminal in Walvis Bay, some 400 kilometres west of Namibia's capital Windhoek.
The 40-acre terminal was reclaimed from the sea at Walvis and the terminal has an annual handling capacity of up to 750,000 TEU. The new terminal will position Namibia as a regional logistic hub and gateway.
Li Yi, vice president of China Harbour Engineering Company said the company had been involved in over 100 port construction projects, and the container terminal project at Walvis Bay is one of the most challenging projects.
Chinese Ambassador to Namibia, Zhang Yiming, said the completion of the new container terminal is a "great project" achieved by the two countries. "We expect Namibia to actively participant in China's Belt and Road Initiative," Zhang said.
This is China Harbour Engineering Company's first project in Namibia and also the largest port project in the history of Namibia. The successful implementation of the terminal project has presented an opportunity for the company to expand into the high-end market of Namibia.