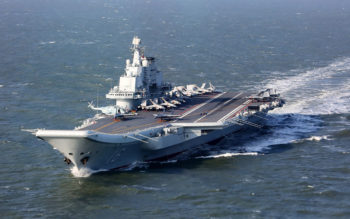 China's only aircraft carrier has entered the Taiwan Strait in a highly symbolic show of strength, but Taiwan insisted Wednesday there was no need for panic even as tensions boil over the island's diplomatic status.
Beijing has upped its military drills near the island in recent weeks after being incensed by a congratulatory phone call from Taiwan's president Tsai Ing-wen to US president-elect Donald Trump, and by a subsequent transit stop by Tsai in the US.
China considers Taiwan a breakaway province to be brought back into its fold. The US is the island's most powerful ally and main arms supplier, despite having no official diplomatic relations since recognising Beijing in 1979.
The Liaoning aircraft carrier has not entered Taiwanese waters but has gone into an area covered by the island's air defence zone, Taiwan's defence ministry said.
Beijing responded that it was "very normal" for the Liaoning to pass through an international waterway as part of drills.
"Every year, in this season, China's navy has a few exercises in the near seas and other maritime regions. These exercises are all for training," said Liu Zhenmin, vice minister of foreign affairs.
Taiwanese media said that F-16 fighter jets and other aircraft were dispatched Tuesday night to monitor the Chinese carrier group. The defence ministry would not confirm those reports.
Tsai, who is currently on a visit to Central America, has been regularly instructing the national security team and the defence ministry by phone, presidential office spokesman Alex Huang said.
"The military is monitoring the whole situation and will act as necessary. We urge Taiwan's people to be at ease," the defence ministry said in a statement.
"There is no need for us to overly panic," said the chairwoman of Taiwan's Mainland Affairs Council (MAC), which handles the island's relationship with Beijing.
"The national security council has a good grasp of the situation. We are doing what is necessary," Chang Hsiao-yueh told reporters at an end-of-year briefing.
"The government has sufficient capabilities to defend our country's safety," she added.
– 'Reactive measures' –
Experts have said the manoeuvres of the second-hand, Soviet-built Liaoning are "symbolic" rather than any real military threat.
The Liaoning has been carrying out its first exercise in the Pacific and already passed south of Taiwan last month.
It entered the southwest of Taiwan's air defence identification zone (ADIZ) at 07:00 Wednesday local time (23:00 GMT), the defence ministry said, along with escort vessels.
By midday it was moving north along the mainland's coast, the ministry said. Local media said the carrier was expected to move out of the strait later Wednesday.
"There is currently no navy or air force activity out of the ordinary," it added.
Tsai visited the US at the weekend on a transit to Central America, despite protests from Beijing.
She stopped in Houston on Saturday and met with Republican Senator Ted Cruz during her stay, which was slammed by Beijing as an attempt to "undermine China-US relations."
Tsai is this week visiting Honduras, Nicaragua, Guatemala, and El Salvador — among the dwindling number of states that have formal diplomatic relations with Taiwan instead of with Beijing.
While the focus of her visit is to bolster ties with allies, her US stopovers are being closely watched with speculation she may make contact with Trump and his team.
Tsai has faced a mounting backlash from Beijing since she took office in May because she has refused to recognise that Taiwan is part of "one China".
All official communications with Taipei have been severed by Beijing and tourist numbers have plummeted as Chinese visitors are discouraged from travelling to the island.
MAC's Chang said Wednesday that Taiwan was taking "relevant reactive measures" against military, diplomatic and economic actions by China since Tsai came to power.
"We urge China (to understand) the hopes of people on both sides to maintain peaceful and stable development in relations," she added.