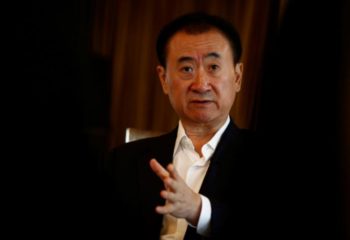 China's richest man, Wang Jianlin, said on Tuesday that rising tensions between the United States and China will affect trade, although he's confident that his Dalian Wanda Group's investment in the country's entertainment industry will not be hampered.
Wang, speaking to Reuters on the sidelines of the annual World Economic Forum in Davos, said his group has earmarked $5 billion to $10 billion each year for outbound investment, focussing on entertainment and sports.
The billionaire property tycoon-turned-entertainment mogul said the United States would be the top priority for investment opportunities, followed by Europe, as his group seeks to extend its overseas buying spree.
"Certainly trade will be affected by the tension between the two governments," Wang said, referring to Beijing and the government of U.S. president-elect Donald Trump. "If I can lobby I'm willing, but I'm not capable of lobbying both."
Wang said his company would not be affected by the tension between the two sides because Trump would not block money going into the United States.
Trump often targeted China in the U.S. election campaign, blaming Beijing for U.S. job losses and vowing to impose 45 percent tariffs on Chinese imports.
"We will go to invest in the U.S. and I believe they will not close the door to us but maybe they will have some regulations regarding trade," Wang said.
In November, Dalian Wanda agreed a $1 billion takeover of Dick Clark Productions, the company that runs the Golden Globe awards and Miss America pageants.
Wanda already owns Legendary Entertainment, co-producer of film hits such as "Jurassic World" – which was the biggest U.S.-China movie deal when it was sealed in January last year. It also owns U.S. cinema chain AMC Entertainment Holdings.
Wang told Reuters that his group was interested in buying one more U.S. movie studio although there was not substantial progress in the talks so far because few were willing to sell.
Speaking on the outlook for China's property market, where Wanda started its business empire, the 62-year-old tycoon said there was a bubble "that was local in nature" and he expected a small correction due to government intervention.
Wang this month criticised China's close control of its property industry, saying the "excessive cyclicality" caused by that was a reason for his conglomerate's planned move to exit the real estate development business.
He shrugged off concerns over China's government and corporate debt situation, saying he believed it was manageable thanks to solid growth in the country's domestic economy.
The group was considering a "a very large" tourism project in Australia because it was one of the favourite destinations for Chinese tourists, Wang also said, without elaborating.
Copyright Ships & Ports Ltd. Permission to use quotations from this article is granted subject to appropriate credit given to www.shipsandports.com.ng as the source.