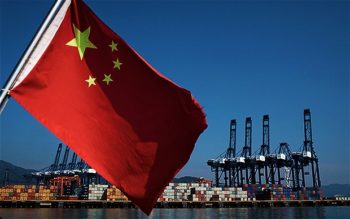 China's current investments in trade zones in Nigeria is over $460million, the Chinese Ministry of Commerce has confirmed at a meeting with African journalists participating in the China Africa Press Centre 2017 programme.
The Deputy Director and Deputy Chief of Division at the Department of West Asian & African Affairs, Ministry of Commerce of The People's Republic Of China, He Jun, said, "Currently we have two trade zones, Lekki and Ogun trade zones. And in these trade zones we have electricity supply and roads and all other conditions that is necessary, with a total investment of more than 460 million US dollars.
"We have hired about 5,000 local people, and have indirectly created over 10,000 jobs. We have paid over 10 million US dollars in tax to the local governments."
He said in the Lekki Free Trade Zone (LFTZ), there are over 50 companies present with about 16 currently operating while there are 36 companies present with 26 already commenced productions in the Ogun Free Trade Zone.
"On the basis of these two trade zones we would like to encourage more companies to go out and enter these trade zones," he said.
China considers Nigeria a very important partner in Africa. In 2015, the two way trade volume was estimated at 10.66 billion US dollars, a slight decrease when compared with last year due to the global economic recession.
"We have also noticed that to shake off dependence on oil, the Nigerian government is also taking measures to diversify its economy, and China has been very actively encouraging companies to participate in this process. We have conducted a series of projects.
"According to our estimation, by the end of 2015, the total investment of China in Nigeria exceeded $13billion, in which Foreign Direct Investments (FDI) took about $2.4billion. Last year in 2016 alone, the FDI increased by 113 million US dollars," he said.
Copyright Ships & Ports Ltd. Permission to use quotations from this article is granted subject to appropriate credit given to www.shipsandports.com.ng as the source.