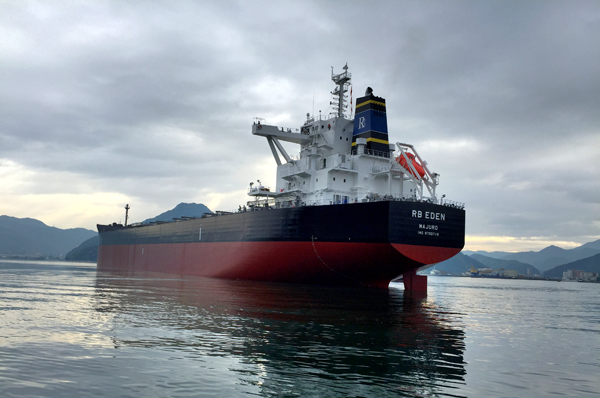 A ship carrying 70,223 tonnes of sorghum from the United States to Asia switched its destination on Thursday, data showed, becoming the latest diverted cargo in a trade flow roiled by China's move to impose hefty deposits on U.S. shipments of the grain.
The RB Eden was heading to the Canary Islands' Las Palmas, in the Atlantic Ocean, according to Thomson Reuters Eikon ship tracking data on Thursday. It is due to arrive at the Spanish harbor onMay 12.
The ship loaded U.S. sorghum from trader ADM's Corpus Christi grain elevator in Texas on March 18, according to U.S. Department of Agriculture data. It wasn't immediately clear where the cargo was originally contracted for in Asia.
When the Chinese government hit imports of U.S. sorghum with a big antidumping deposit on April 18, the ship was headed east-northeast through the Indian Ocean off the coast of South Africa.
After news of the Beijing move broke, the vessel turned around and remained in the area, before heading back west.
The vessel is one of almost two dozen stranded at sea as a result of the move, with frantic importers in China offering to sell their grain at steep discount to buyers elsewhere.
Chinese importers will likely have to pay the deposit and face the biggest risk from the levy.
Four cargoes have found buyers in Japan and Saudi Arabia.
It's not clear if the Eden's cargo has also been sold, but traders said the owner may have sought a port close to major markets where the grain could be stored until a later date.
Las Palmas is considered a gateway into Europe and Africa.
"If you want to park somewhere, you need to find a cheap parking lot," said a veteran Singapore-based trader.
Later on Thursday, the Ocean Pride, carrying 58,593 tonnes of sorghum that had loaded at ADM's Galveston, Texas, grain elevator in early March, entered Kashima port in Japan, Reuters shipping data showed.
It had switched its destination from Shanghai on Tuesday, one of the four China-bound vessels that were diverted earlier this week. 
Copyright Ships & Ports Ltd. Permission to use quotations from this article is granted subject to appropriate credit given to www.shipsandports.com.ng as the source.