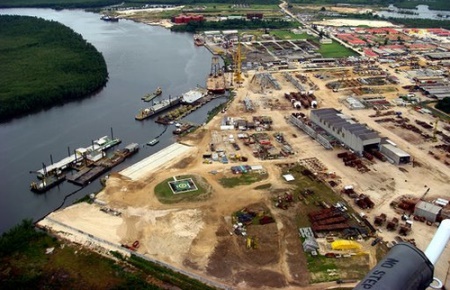 Clearing agents on Tuesday withdrew their services over alleged high handedness by officials of the Nigeria Customs Service, Onne Port Command.
Some of the agents, who spoke with SHIPS & PORTS, accused the Customs Intelligent (CIU) of delaying the exit of containers at the port in an attempt to extort them.
"Ordinarily CIU has nothing to do with examination or release of cargo but because of their unethical conduct, Customs allow virtually all departments to do the same thing. The problem is you don't even know what to charge your client. The Customs will just wake up and tell you they are collecting a particular amount even on normal shipment and they will continue to frustrate you," one of the agents told SHIPS & PORTS.
Chairman, Association of Registered Freight Forwarders (AREFFN), Obinna Ugochukwu, said the agents are demanding "a renegotiation with Customs" following alleged daily extortion by officers.
"Our people resolved that they want to withdraw their services. They say they want a renegotiation with Customs because we are being exploited every day. Things are not going well the way it should be. We have a lot of operational challenges here with Customs.
"A lot of our members have died due to high blood pressure. So, our members say they cannot continue to be exploited by Customs. We have procedures on this job but each time they change officers, they will begin to act as if they are lords. So, we really want a renegotiation and have an understanding on how the job should go. It is not going down well with us.
"So, we have decided to withdraw our services today so that we can have meaningful engagement with Customs for them to harmonise operational procedures and address the challenges. We are hoping that they will look into these issues," he said.
He said the withdrawal of service was a decision by the three freight forwarding associations including AREFFN, Association of Nigerian Licensed Customs Agents (ANLCA) and the National Association of Government Approved Freight Forwarders (NAGAFF).