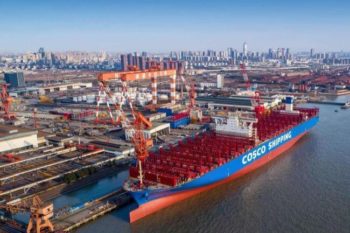 China's COSCO Shipping Lines has named COSCO Shipping Leo, a 20,000 TEU containership newbuild.
The naming ceremony for the giant boxship was held in Nantong last Thursday.
Built by Nantong COSCO KHI Ship Engineering (NACKS), COSCO Shipping Leo is the second 20,000 TEU ULCV built by NACKS for COSCO. In addition, it is COSCO Shipping Lines' third 20,000 TEU-class vessel.
The 197,000 dwt ship, which features a length of 400 meters and a width of 58.6 meters, has a market value of USD 126.45 million.
COSCO Shipping LEO is expected to start sea trials on March 27.
On April 10, it will join the company's fleet to serve on the Far East-Northwest Europe (AEU3) loop.
The port rotation of AEU3 is Piraeus (Greece), Rotterdam (the Netherlands), Hamburg (Germany) and Antwerp (Belgium), offering shipping service from North China, East China and Southeast Asia to the Mediterranean and Northwest Europe.
In January 2018, the company took delivery of the first two 20,000 TEU boxships — COSCO Shipping Aries and COSCO Shipping Taurus.