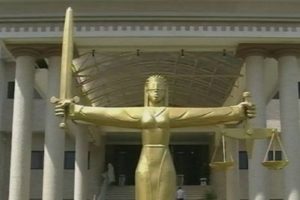 An Ikeja High Court on Wednesday adjourned the trial of Opeyemi Ajuyah, a fuel subsidy fraud suspect, to March 22 to allow her counsel enough time to provide her death certificate to the Economic and Financial Crimes Commission, EFCC.
Ajuyah, who was facing an eight-count charge alongside Olanrewaju Olalusi, son of late businessman Abdullazeez Arisekola-Alao, over an alleged N1.1 billion fraud, died in January.
They are charged alongside their companies, Majope Investment Limited and Axenergy Limited.
Seidu Atteh, the counsel for the EFCC, had said that defence team will have to provide a proof of her death before the case can proceed.
"It's unfortunate, but they still have to provide proof of death, like the death certificate, for the case to proceed.
"The likely move would be to remove her name and that of her company (Majope Investment) from the charge."
But on Wednesday Olanrewaju Ajanaku, the deceased's counsel asked for more time to provide the death certificate. He explained that the husband of the Ajuyah was out of the country and that the death certificate will be provided as soon as he returned.
"The moment he comes back we shall send the death certificate to the prosecution," he said pleading for more time.
"I have been reliably informed that he will be back on Thursday next week. We will send it to the prosecution next week Friday."
The trial judge, Lateefat Okunnu, who was not pleased that it was taking too long for the prosecution to provide the death certificate, asked the prosecution team if it had no problem with receiving the death certificate next week, Atteh. answered affirmative.
The case was subsequently adjourned.
Ajuyah and her co-defendants were first arraigned in 2012 for conspiring on February 14, 2011, to obtain N1.1 billion from the Nigerian government by claiming the sum as subsidy for the importation of 15 million metric tons of premium motor spirit.
In May 2015, the EFCC amended their earlier six-count charge to an eight-count of forgery and conspiracy, and re-arraigned the defendants.
The Commission accused the defendants of forging a bill of laden, cargo manifest, and other documents to perpetrate the N1.1 billion fraud between January 2011 and April 2012.
According to  Atteh, the offences contravened Sections 1(3) of the Advanced Fee Fraud and Other Fraud Related Offences Act of 2006. They also violated Sections 363(a) and 364 of the Criminal Law of Lagos State.