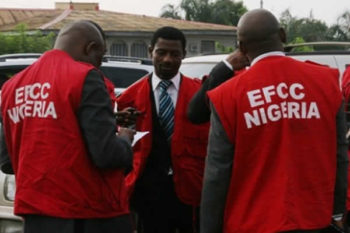 Nigeria's anti-graft agency, the Economic and Financial Crimes Commission (EFCC) has secured over 278 convictions of corrupt officials between 2017 and first quarter of 2018.
President Muhammadu Buhari made this known in a message to the passing out parade of 314 cadets of the EFCC Detective Superintendent Course 7 for 2017/2018, held at the Nigerian Defence Academy, Kaduna.
The president, who was represented by the Inspector General of Police, Ibrahim Idris, said 189 convictions were secured in 2017 and 2018, including that of a Senior Advocate of Nigeria in the first quarter of 2018.
Buhari congratulated the cadets for successfully completing their 13 months training and admonished them to be courageous in dealing with corrupt officials.
He said, "Being officers of the EFCC does not confer immunity on you against arrest or prosecution as the only currency that can buy the career you seek in the EFCC is integrity, professionalism and resistance to corruption."
The president also advised them to conduct investigations that are evidence-laden and capable of gaining conviction in courts.
Buhari applauded the Acting chairman of EFCC, Ibrahim Magu for the achievements recorded in the fight against corruption, adding that for the first time, the nation is witnessing the trial of judges, senior lawyers, serving and retired officers and former ministers.