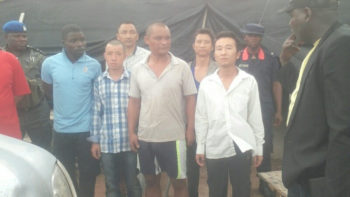 The Plateau High Court IV on Thursday adjourned to September 14 the hearing of a case challenging the arrest and detention of 16 Chinese nationals and 12 others.
A Jos-based miner, Usman Abubakar, also known as Dan China, had filed the suit to challenge the order of arrest of the Chinese given by the National Security Adviser, NSA, Babagana Monguno.
The presiding judge, Samuel Gyang, adjourned the hearing, following the application by the counsel to the NSA, A.B. Mustapha, for an extension of time to enable him respond to an 'Exparte' motion filed by the counsel to the plaintiff, Gyang Zi.
Mustapha told the court that he was not ready because he had just filed a motion on notice for extension of time within which to file his response to Zi's exparte motion.
"My Lord, I am very sorry to inform you that it is only this morning that I filed my motion on notice for extension of time within which to reply to Zi's Motion of Exparte.
"Consequently Sir, I wish to apply for a very short adjournment to enable me to file my reply," Mustapha requested.
Responding, Zi said he was not opposed to the application for adjournment.
In his motion, Zi described the arrest of 28 staff members of Solid Nigeria Ltd, including the Chinese nationals, as "illegal, null and of no effect'' while claiming that his clients were not involved in any illegal mining.
Monguno had on August 15, ordered the arrest of the Chinese and 12 other Nigerians, including Dan-China, over what the presidential adviser described as "massive illegal mining'' at Zurak village in Wase Local Government Area of Plateau.
The NSA gave the order, declaring Dan-China wanted when the presidential aide accompanied the Minister of Mines and Steel Development, Kayode Fayemi, to the mining site.
The Minister of Mines, the Inspector General of Police, Plateau Governor, Chairman of Wase Local Government and House of Representatives member from Wase Constituency were joined in the case.