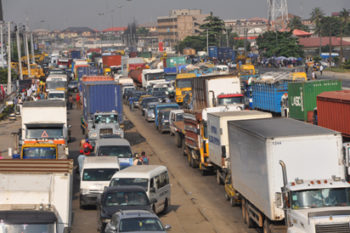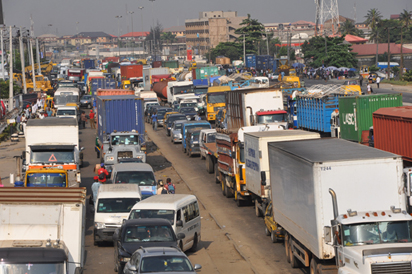 The Apapa Magistrates' Court suspended sitting last week due to harrowing nature of Apapa traffic gridlock which has been worsened by the rains and which recently boiled over.
SHIPS & PORTS DAILY gathered last week that the worsening Apapa gridlock, occasioned by heavily dilapidated road infrastructure, may have been responsible for the inability of the Magistrate to sit.
One of the Registrars of the court who pleaded anonymity told SHIPS & PORTS DAILY that the court could not seat as a result of the notorious gridlock that have rendered the Ijora-Wharf and Apapa-Oshodi roads impassable.
"The last time the court sat this week was on Tuesday, the other days, the Magistrate could not come to the court because of the heavy traffic in Apapa," the Registrar said.
A Prosecuting Counsel, Alexander Esabamen also confirmed to that the court did not sit for the week.
"I have been coming to the court. I tried to beat the traffic by riding on okada (commercial motorcycle). The last time the court sat was the previous week," Esabamen said.
Another lawyer, Rufai Tijani told SHIPS & PORTS DAILY that the deplorable state of the road was causing the delay in justice for the inmates.
"I just feel for those whose justice is being delayed due to the bad roads causing heavy traffic in this axis. So far, the court has not been sitting. The only thing one can do at this court for now is filing," he said.
Another lawyer said, "I am in a bad mood right now because my client's case had been adjourned after the whole stress of beating the traffic to be in court on time, only to be told that the matter has been adjourned till a later date."
He therefore advised that anyone who does not have any serious business in the court or the environs should not bother going to Apapa road.
The roads leading in and out of Apapa have been the worse for it more than ten years as they have become impassable. Several promises made by past and the present government to rebuild the roads have not materialised. The situation has led to the closure of several businesses in the port city. It is not uncommon to see several buildings abandoned by their owners and occupants who are no longer able to spend four to five hours to go into or come out of their offices everyday.
Copyright Ships & Ports Ltd. Permission to use quotations from this article is granted subject to appropriate credit given to www.shipsandports.com.ng as the source.