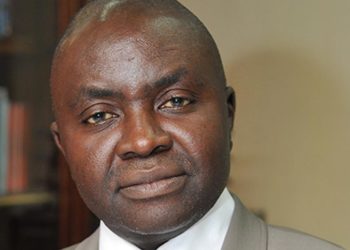 Director General, Lagos Chamber of Commerce and Industry (LCCI) Muda Yusuf has condemned the continued presence of Customs operatives on the highways, saying it is hindering trade and the federal government's effort aimed at improving the ease of doing business in the country.
Yusuf who stated this in a chat with SHIPS & PORTS DAILY said the interception of already cleared containers on the highway does not speak well of the image of Customs and it is creating more problem than it is solving.
He said no officer should be permanently stationed on the road but their operations should be restricted to the land borders, seaports and airports.
He noted that while Customs has the powers to intercept containers on the road base on intelligence, such powers should not be used to cause inconvenient to other members of the public.
"The idea of customs stopping people on the highway is something we are not happy about. As much as it is possible, the customs should operate at the seaports, airports and land borders. When they begin to stop people on the highway, it is not good enough.
"We have seen instances where containers that have been cleared at the port just one or two kilometre from the port and they are stopped. Unless there is a very high level intelligence, that kind of thing should only be an exception but then you find them all over the place. When they begin to stop container or vehicle on the highway, it is creating more problem than it is solving.
"We are talking about ease of doing business, if they have those powers, the ways they exercise those powers is what is causing the problem. They exercise this power in such a way that it is causing inconvenience to the business community. Why for instance, will a customs officer be telling somebody that you have under-value and that the duty you pay is not enough? Is that not the function of the valuation unit?
"So the best thing as far as it is possible, is that they should not be on the road. If there is very serious intelligence, fine but they should not be permanent on the road because it is not good for the economy.  We are not supporting any act of criminality but when we talk about ease of doing business, officers should be restricted to the border," he said.
According to him, if there are agencies of government which activities are impeding the ease of doing business, and have been asked to leave the port unless they are required, Customs operatives should also be ask to leave the road unless there is absolute necessity for that.
"They have checkpoints all over the place. It should be an exception not the rule. You see them along Lagos, Ore, Agbor, they are permanent there. It is a different thing that there is an intelligence and you just move and track the person, then we can understand but when you have them permanent on the road, no matter how complete your document is, they will still disturb you even for car owners. So, it a problem people have been complaining about. Why must you be asking people to go about with import duty papers in their private cars? Is that fair?? Even when you are travelling with your family somewhere around the bush, they could tell you your papers are fake and ask you to come down. Is that the spirit of these laws? So when you give some discretionary powers, they are easily abused. That is the problem.
On the issue of valuation, Yusuf said arbitrary valuation queries by officers even after the Pre Arrival Assessment document has been issued is not good for business and it creating a corrupt atmosphere.
"A number of times, we get complain about arbitrary queries being raised by customs even when the values are easily verifiable, Most times the values are so high, far beyond what is on the invoice and they put all sort of pressures on the importers even when there is a PAAR already issued by the Customs headquarters. So the arbitrary valuation query is not good for business. It is affecting planning and sometimes, it creates an atmosphere for corruption," he said.
Copyright Ships & Ports Ltd. Permission to use quotations from this article is granted subject to appropriate credit given to www.shipsandports.com.ng as the source.