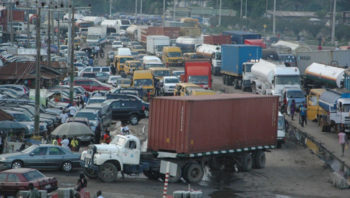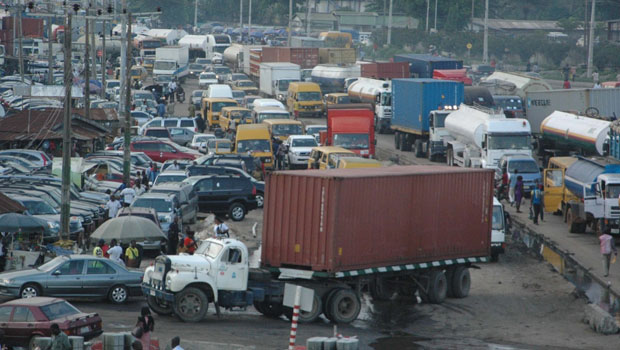 A traffic warden and a staff of the Lagos State Transport Management Authority (LASTMA) on Friday told SHIPS & PORTS DAILY that they have relaxed traffic offences for now due to the deplorable state of the roads leading into and out of Apapa.
The traffic warden, who appealed that his identity should not be revealed, said it would amount to injustice to arrest any motorist for any offence considering the dilapidated nature of the roads that creates terrible traffic hold-up on daily basis.
"There is no way you can arrest anybody for offence. You can see the way the road is. Let the government repair the road and then we can do our job. For now, it is just the way out of it," he said. "The road is the major challenge in controlling traffic and that there is little anyone can do."
Another traffic warden who spoke on condition of anonymity, expressed anger when asked about the inability of the police to effectively control the chaotic traffic situation on roads leading to the port city.
He said, "Is it every time you ask police questions? There is nothing police can do about the road. Go and interview the Minister of Works and Housing. This is a federal government road. The more you ask such questions, the more you get me angry.
"Look at the potholes everywhere, containers are falling. How do you create the space?"
On Friday, SHIPS & PORTS DAILY saw a police officer helping to control traffic from Barracks junction. At some point he was seen helping out a truck driver whose tyre deflated out of the road to ensure flee flow of traffic.
The police officer said, "Sometimes, we overlook some traffic offences due to the sorry state of the road. Even when we made arrangement for heavy duty vehicles to be on a single lane while other motorists use the other lane, some drivers still default and we just overlook it because of the bad road."
The Head of the Lagos State Traffic Management Authority (LASTMA) team at the Airways junction on Wharf Road, Apapa, one Mr. Onanuga confirmed toSHIPS & PORTS DAILY that his men have relaxed traffic the otherwise strict implementation of the state's traffic laws.
"We still manage traffic despite the deplorable state of the road in our own little way for now. We don't implement traffic offence, all we do is to allow free flow of traffic. But by the time the road is fixed, there will no more excuses and then we can carry on with our normal operations" he said.
A truck driver who identified himself as Sunday however said while policemen have relaxed traffic rules, they still extort money from them despite the poor state of the road.
"Before we used to be checked but now they don't do that again. But now if you're arrested and you settle the police, you're released but if you don't, you will be taken to the station, forced to pay a bigger amount of money before they release your vehicle. But it's fair now. Now the police request for N100, N200 on traffic for pure water unlike before when start from N1,000.00," he said.
But another truck driver, who identified himself simply as Taiwo said each time he carried goods on his truck, the police demanded for between N500 and N1,000.
"I have all my papers complete. Still the police will ask for money from me especially when I am carrying goods. Sometimes, I give them N500 or N1,000 without committing offence," he said.
Copyright Ships & Ports Ltd. Permission to use quotations from this article is granted subject to appropriate credit given to www.shipsandports.com.ng as the source.