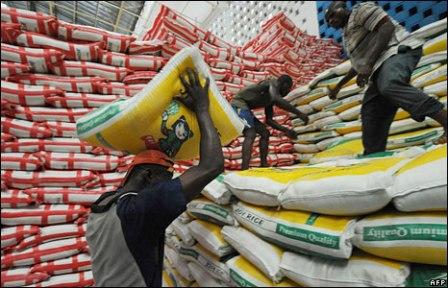 The Chairman, Presidential Task force on Rice and Wheat Production, Abubakar Bagudu, has condemned the continuous importation of rice into the country, describing it as importation of poison.
Bagudu, who is also the governor of Kebbi, told journalists on Sunday in Birnin-Kebbi that the imported rice, auctioned by different countries, was no longer good for human consumption.
The chairman, who expressed regret over citizens' patronage of foreign rice, said imported rice usually contained preservatives, which are poisonous.
He disclosed that there were three major importers of rice into the country who specialised in importing very cheap, auctioned rice into the country.
The governor said that Thailand in April 2017 auctioned 1.62 million tonnes of rice at about $140 per tonne whereas the market price of it was $700 per tonne.
"Countries, particularly Thailand, India, China and Vietnam, buy a lot of paddy from their farmers and keep in storage sometimes, as long as nine years so that by so doing, they are supporting their farmers.
"A country like Thailand, for example, may have eight million tonnes of rice in storage; so occasionally, they will auction the ones that are almost going bad that is, the one that is not fit for human consumption.
"They sell the paddy as low as 20 per cent less than the international market price.
"Those that import rice into Nigeria will go and buy the paddy and clean them up.
"Because they do not buy rice at the international price, our local farmers who are offering rice for $500 will not be competitive.
"If that importer is to buy fresh rice, he cannot bring it into Nigeria below $700 per tonne.
"This is the biggest obstacle to our rice efforts because consumers say local rice is expensive; it is not expensive because we are not comparing it with equivalent rice elsewhere," the chairman explained.
The governor said that out of the 600 million tonnes of rice produced in the world, Nigeria produced about six million tonnes which represented one per cent of the production.
Bagudu said that rice could grow in the 36 states of the federation and called on stakeholders and citizens to come together to significantly advance rice production.
Acting President Yemi Osinbajo, on June 7, established a National Rice and Wheat Task Force to set up targets that will yield comprehensible and self-evident results in rice and wheat production.
At the inauguration of the task force, Osinbajo said the federal government was trying to evolve a strategy for the economy, for employment and for feeding the people.
Other members of the Task Force are Governor Abdullahi Ganduje of Kano and his Ebonyi counterpart, David Umahi.
Others are the Minister of State for Agriculture, Lokpobiri Heineken, the President of Rice Farmers Association, Aminu Goronyo and the President, Wheat Farmers Association, Salim Muhammad.
Copyright Ships & Ports Ltd. Permission to use quotations from this article is granted subject to appropriate credit given to www.shipsandports.com.ng as the source.