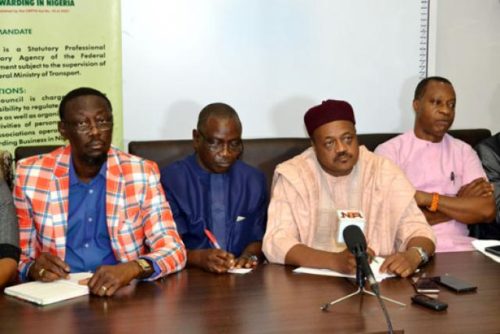 Chairman, Council for the Regulation of Freight Forwarding in Nigeria (CRFFN), Tsanni Abubakar, has assured that the Council would create a harmonious working relationship amongst operators in the industry.
Tsanni who gave the assurance while addressing his maiden press conference in Lagos on Thursday said the synergy between the council and operators including government agencies will boost effective service delivery.
While calling on the registered freight forwarding associations to close ranks, Tsanni urged them to exhaust internal dispute resolution mechanism of the Council towards resolving any trade or administrative disputes among the practitioners, agencies of government and the Council in order to avoid unnecessary litigations.
Tsanni reassures operators that his administration will protect their interest under the law even as he assured the staff of the council of their commitment towards their well being.
He said, "I assure all that every interest shall be protected under due process and the law. Members of staff are rest assured of the council commitment to their well being and be certain that every entitlements owed them would be paid. In view of this we demand loyalty and commitment at your duty posts"
"The vision of the council is to become Nigeria's leading transport player committed to the development of a global modern transportation system that is competitive in freight forwarding business in Nigeria an the world in general."
The CRFFN Chairman added that the council will pursue through existing laws to ensure increase revenue for the government.
He noted that efforts shall be sustained to further create efficiency and coordinate the activities of practitioners in a way that would clean up the operations and its members so as to enable it serve the public better in an efficient and transparent manner in accordance with international best practices.
"Further to this, Council shall ensure that each practitioner is legally eligible to carry out business in and around the ports without incurring demurrage or any form of loss. This we shall ensure to give both parties the opportunity to leverage on the prospects and successes of 'together we can attitude' so as to achieve maximum benefits for the general betterment of society.
"Aware of all this, Council shall leverage on the federal government Ease of Doing Business to bring about new innovations in the conduct of doing business that is obtainable world over. The aim is to promote, protect and preserve the transparent nature of this government at fighting corruption and related financial crimes, real or imagined", he stated.