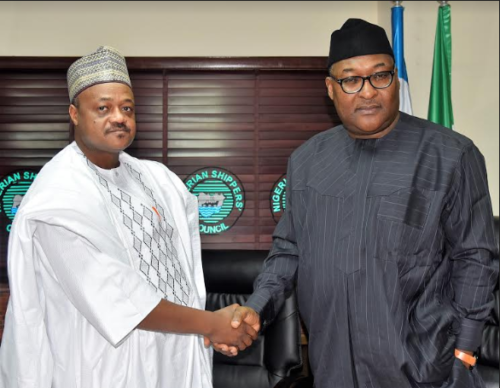 The Executive Secretary of Nigerian Shippers Council (NSC), Hassan Bello, has called for an urgent review of the Council for the Regulation of Freight Forwarding in Nigeria (CRFFN) Act to reflect present day realities.
Bello made the call on Wednesday when he received members of the Council led by its Chairman, Abubakar Tsanni, who paid a courtesy visit to the NSC headquarters in Lagos.
The NSC CEO said there is need to harmonise the CRFFN Act and the Customs and Excise Management Act (CEMA) to address the problem of proliferation of foreigners in the freight forwarding profession, adding that the importance of training of practitioners "cannot be overemphasized".
According to him, Nigerians have been pushed out of freight forwarding practice because they have neglected training.
Bello noted that 11 years after the CRFFN Act was enacted, it is yet to achieve the desired result for which it was set up due to selfish interest and lack of cooperation among the various freight forwarding associations.
"The Act has been established since 2007 and I think it is time for reviewing. Align freight forwarding to the economic activities rather than the politics of it. You have to restore that so that the profession is central.
"Hitherto there are certain associations that have acted above and control the CRFFN which is the regulator. This should be reversed. You have to recognise these associations but you also have to stamp the authority of the council on associations," he said. 
Bello charged the CRFFN Chairman to sanitize the profession and reposition it for optimal performance.
"I don't envy you. You have to make a difference. You need to change the status quo. In your profession, there have been distortions and issues that have stunted the growth of freight forwarding. It is time for you to clean it up and put freight forwarding where it rightly belongs," Bello said. 
Earlier, Chairman of the CRFFN Governing Council, Tsanni sought the collaboration of NSC in addressing challenges faced by the freight forwarders.
According to him, "Some of the areas we shall like to partner with the NSC include collaboration in carrying out research on the most innovative way of developing our transport logistics supply chain and assist the CRFFN in providing training and building capacity for freight forwarding practitioners."
Tsanni noted assured that issues affecting the various freight forwarding associations will be addressed soon.