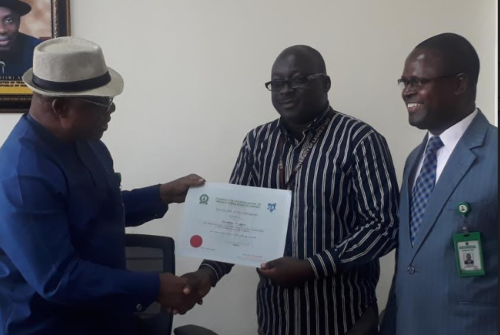 The Council for the Regulation of Freight Forwarding in Nigeria (CRFFN) has signed a Memorandum of Understanding (MoU) with the University of Lagos (UNILAG) to develop capacity of freight forwarders.
Speaking at the signing of the MoU in Lagos on Monday, Registrar of the Council, Samuel Nwakohu, said CRFFN is committed to the training of freight forwarders and it is working towards ensuring that practitioners are seen as professionals.
According to him, "Training is a core mandate and we are doing everything humanly possible to make sure that we shift the paradigm from a situation where freight forwarders are seen as not knowing what they are doing to a situation where they are now seen as professionals.
"The customary name all along is clearing and forwarding but we call them freight forwarders and we are telling the world today that we have a mandate to make sure that these people act as professionals and how would they do that? It is by learning.
"In the near future, each and every freight forwarder will be qualified and accredited to practice freight forwarding. That is our main objective in doing this."
He added that the council would also partner other institutions in the country on training of its members, stating that, "The training is not just with Unilag, we are going to do it across the country. We are doing for individual freight forwarders and also for corporate bodies. The executives themselves will have the opportunity to learn because there is no end to learning."
Head, Education and Research, CRFFN, Alban Igwe, said the partnership with UNILAG has been on since 2017, adding that a number of institutions have also been accredited by the council including University of Nigeria, NSUKKA with which it would also sign a MoU with on Wednesday in Abuja. 
He said, "The qualification they will be rendering after this accreditation will include diploma in freight forwarding and supply chain management and higher diploma in supply chain management. These qualifications will afford freight forwarders the opportunity and capacity to practice freight forwarding anywhere in the world because it is an international qualification." 
Representative of the Vice Chancellor of UNILAG, Deputy Director, Institute of Maritime Studies, Dr. Olusegun Adeaga, expressed appreciation to the council for choosing the institute as one of its governing council member and for accrediting UNILAG to run its program.
"With the university logo, we will always be in truth and indeed to abide by the rules and regulations that has to do with the manpower development as regards freight forwarding regulation in Nigeria and according to FIATA specifications.
"We are grateful to you for counting us worthy to run your programs," he said.