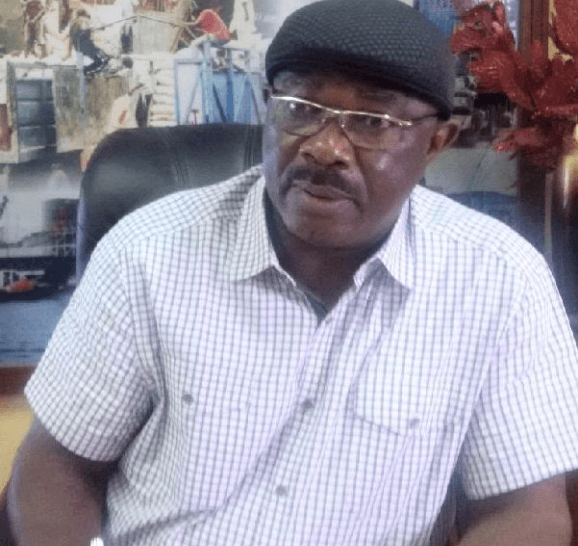 Dr. Boniface Aniebonam is the Founder, National Association of Government Approved Freight Forwarders (NAGAFF). In this interview with Shulammite Foyeku, he speaks on pertinent issues affecting port development, freight forwarding and others.
What is your take on the directive by the Senate Committee on Customs to shipping companies to stop release of some containers over alleged infractions?
It is an internal matter between Customs and the Senate committee. However, the oversight function of the committee is supervisory. I think what we should be looking at is the abuse; not necessarily whether the Senate has power to do so or not. Otherwise, we will be complicating issues. I think since the matter is already in the public domain, it should be discussed between the Customs and the Senate committee.
What is your opinion on the closure of Nigeria's land border with neighbouring Benin, which has lasted for more than one year?
At the point we shut down the border, there was inherent abuse, part of which is not having a very good neighbour. We expected to have good neighbours to protect each other within the ECOWAS treaty. Obviously, we are beginning to see that our border neighbours are not really interested in protecting our interests.
I expect that the time period now is enough for the government to enter into a strategic partnership with them in view of the things we saw that are inimical to Nigeria. Borderless trade is what is in vogue – removing human barriers. So how do we constitute human element barriers, and if for security reasons, how long will that be?
I think for now, the border should be opened. Those things we thought are not in favour of Nigeria should have been corrected and signed into effect. The time consumed in relation to the border closure is no longer very necessary. It is more dangerous now closing the border because for one, a lot of people are hungry and frustration is setting in.
The government must separate trade goods and goods falling under absolute prohibition, which is the most important thing the government should be looking at now. Nigerians are predominantly international traders and it is obvious that imports have been the bargain of our culture now as far as the economy is concerned. So the government at this point must be very quick in resolving the border closure as soon as possible.
Let's talk about the Council for the Regulation of Freight Forwarding in Nigeria (CRFFN). The tenure of the present governing Council ended in October. Are there plans to conduct a new election or what is the situation now?
Some people are holding the progress of CRFFN and we all know them including organisations. CRFFN at its maiden election was designed to fail and we made that mistake 14 years ago, sadly, we are still on it. We will not course those who are part of the anomaly in CRFFN but they should know that it is the hope of the young freight forwarders; therefore they should call themselves to order.
CRFFN is not going to work now because of the imposition of some persons holding key positions in the Council. Right now, their tenure has ended and there is a controversy whether the elected members should also follow those who were appointed and they are now looking at the law. Even the Attorney General of the Federation does not have the powers to interpret it, it is only the court that can give interpretation.
So if there is ambiguity or misunderstanding on whether the elected officers of the council can continue their tenure, they should have gone to court to ask for interpretation before this time. With this development, we are likely to run another sole administration just as we had during the last administration, which is not good because those elected are saying they are not going because their tenure is four, not two years.
Does the CRFFN Act stipulate that an elected member should serve for four years?
There is no place that is clearly stated in the Act that elected members should serve four-year tenure. But what I know as one of those who worked on the draft bill and who have been following the events is that the elected members still have two years to go. It is only the appointed members that should go and the government will replace them. But right now the system is not working.
Are you worried with the turnout of events at the CRFFN 14 years after?
I am greatly worried not because of me but because of the upcoming young freight forwarders. Training is what CRFFN should do so that they too can raise their head high in society like other professionals and earn their living in the most legitimate way. Those who are benefiting out of the whole system will not be worried.
I expect the Minister of Transport to look into CRFFN and carve a niche for it but unfortunately, he imposed those in leadership positions in CRFFN on us. So CRFFN is under the canopy of the government. But we have gone to court and we are now at the Appeal Court, so you should know that we are worried.
How would you rate the efficiency of the cargo clearance system in Nigeria?
Right now, the major problem in the port is compliance. You don't comply when you don't know what you are to comply with. So the earlier Customs understands the importance of what CRFFN will do for Customs productivity, the better for all of us because it will end up enhancing the revenue function of Customs and issues of matters of security.
People are not complying because they don't even know they are committing offence in matters of false declaration, undervaluation and wrong description of import and even in issue of quality control; people don't know and that is why junks are coming into the country.
When we are not compliant to regulations, we are losing a humongous amount of money. In other words, we are enriching other nations. The system has collapsed. Nothing is working. There is nobody you can go to complain anything to now. Is it the access road to the port that you want to talk about or corruption? Where do you start? What I have always said to anybody who cares to listen on why we cannot fight corruption in our port system is because the giver and taker are culpable and it will not be over for Nigeria except we look at our operating environment and make a law that has to do with holding people responsible.
An agent of government should be held responsible on matters that have to do with giving and taking bribes especially within the system because he is being paid for the job he is doing. I have nothing against any trader or businessman who is making inroad to make profit because that is what made him do business. The government is aware that traders who come to do business will want to cheat and that is why we have the agents of government stationed at the port. We must start thinking as Nigerians because it appears nobody is thinking for Nigeria. Somebody must be thinking for this country so that we don't just be a bandwagon group of people. Leadership is about he who is in charge.
The Association of Nigerian Licensed Customs Agents (ANLCA) has been enmeshed in crisis for a couple of years. As an elder statesman in the industry, how do you think this crisis can be resolved?
We have talked about this several times. To put an end to the crisis, I expect Tony Uju (ANLCA National President) to reconcile everybody. I have talked to him privately but I think there are forces pushing him not to agree. He is supposed to be a bridge builder and not for him to act as if ANLCA is an Igbo association.
There is a need for ANLCA and NAGAFF to collaborate for the good of the port industry. Look at CRFFN, the government gave us a platform to orientate and train ourselves but out of NAGAFF and ANLCA, the government moved in and took over. This gap may have to continue until people like us and the old freight forwarders fizzle out.
Copyright Ships & Ports Ltd. Permission to use quotations from this article is granted subject to appropriate credit given to www.shipsandports.com.ng as the source.