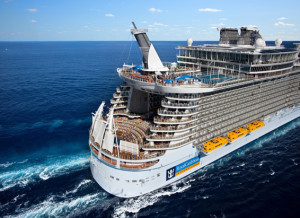 Global cruise giants Carnival Corp and Royal Caribbean Cruises Ltd will cancel South Korean port visits from their China-based cruises after Seoul deployed a U.S. missile defense system, raising tensions between the two countries.
In a post on its Chinese website, Royal Caribbean said it would remove visits to popular South Korea sites due to "recent developments regarding the situation in South Korea".
Carnival's Costa Cruises said it was working with tour operator partners to adjust its offering for Chinese clients.
"Costa Cruises will remove calls to South Korean ports for our upcoming cruises home ported out of China, replacing them with cruising at sea or calls to destinations in Japan," it said in a statement.
The plans mark the first time major travel firms have publicly stopped or restricted trips to South Korea after media reports last week that Beijing had given guidance to tour operators in China to stop selling trips to the country.
A South Korean government document seen by Reuters said China gave a "7-point" verbal instruction to travel firms regarding a ban on trips to South Korea. One point blocked China-based cruise ships from docking in South Korean ports.
In a notice posted on Thursday, Royal Caribbean detailed changes to itineraries for cruises leaving from Chinese ports. These removed visits to South Korean destinations such as Busan, Jeju and Seoul, replacing them with visits to sites in Japan. The firm did not respond to requests for further comment on Thursday.
The squeeze on Korean firms underlines Beijing's anger over a joint plan by South Korea and the United States to set up the Terminal High Altitude Area Defence (THAAD) missile system in South Korea. Seoul and Washington say it will defend against nuclear-armed North Korean missiles, but Beijing says its far-reaching radar is targeted at China.
The crackdown has sent a chill across South Korea's retail and tourism sectors, which rely heavily on China trade. Chinese shoppers are big consumers of South Korean products from cosmetics and television dramas to vacations and music.
The number of Chinese tourists to South Korea has nearly quadrupled to 8 million over the past five years, accounting for nearly half of foreign visitors, Korean government data showed.
South Korea has said it will consider filing a complaint against China to the World Trade Organization over what it described as trade retaliation over the THAAD deployment issue.
Copyright Ships & Ports Ltd. Permission to use quotations from this article is granted subject to appropriate credit given to www.shipsandports.com.ng as the source.