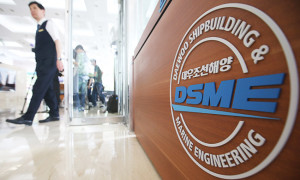 A former CEO of cash-strapped Daewoo Shipbuilding & Marine Engineering Co. who is already standing trial has additionally been charged with cooking the shipyard's books for years 2008 and 2009, prosecutors said Thursday.
Nam Sang-tae, who led the company from 2006 to 2012, is accused of inflating the shipbuilder's management performance in order to extend his term, according to the prosecutors.
He is currently standing trial in custody on charges of causing some 26.3 billion won (US$22.8 million) in losses to the company by making business decisions based on his ties to certain people. He is also suspected of receiving some 2.4 billion won of kickbacks.
The newly added allegations include inflating Daewoo Shipbuilding's business profits from 828.6 billion won to 1.03 trillion won for the 2008 fiscal year and exaggerating the profits from 373.7 billion won to 684.5 billion won for the following year.
Nam's alleged wrongdoings took place by exaggerating the scale of surplus, whereas similar irregularities committed by his successor Ko Jae-ho were done by turning massive deficits into profits, they said.
Ko, who served as the CEO of the company from 2012 to 2015, was found guilty of accounting fraud in January and sentenced to 10 years in prison by a district court.
Copyright Ships & Ports Ltd. Permission to use quotations from this article is granted subject to appropriate credit given to www.shipsandports.com.ng as the source.