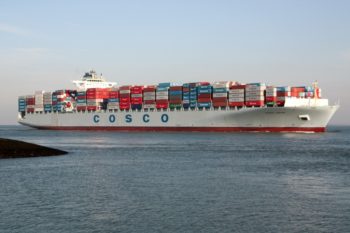 By Jite Eriabie  
Cosco Shipping Ports (CSP) made a strong start to 2018 with a 15% rise in total throughput to 7.83m teu from 6.81m teu in the previous corresponding period, driven by solid growth in the overseas ports as well as the newer Southeast Coast ports.
The northern and southern gateways to China, the Bohai Rim region and Pearl River Delta ports respectively, also staged a strong recovery, growing 16% and 10% to 1.38m teu and 2.36m teu respectively.
In a new reporting structure for the latter, CSP has grouped its Hong Kong terminals into one, doing the same with its Guangzhou terminals, while separating the figures from its sole eastern Shenzhen operation, Yantian International Container Terminals into a standalone set of numbers.
This served to magnify the fact that there has been flat growth at this megaship-focussed terminal, which saw throughput rise just 0.5% to 1.11m teu in January, although from a much higher base. The Guangzhou terminals meanwhile saw throughput rise 19% to 947,200 teu while the smaller Hong Kong terminals saw volumes rise 17% to 306,100 teu.
The Yangtze River Delta ports saw the smallest increase in volume, rising just 1% to 1.64m teu in January. The Southeast Coast ports saw throughput rise 37% to 479,500 teu while the sole Southwest Coast port at Guangxi Qinzhou continued its pace of growth with volumes rising 10% to 102,500 teu in January.
Apart from the strongly ramping up Southeast Coast ports, the next fastest growing segment is CSP's overseas ports, which saw throughput growth of 33% to 1.88m teu. The overseas segment now comprises the largest component of volumes after the key Pearl River Delta region, and surpasses the throughput of both the Yangtze River Delta and the Bohai Rim regions. 
Copyright Ships & Ports Ltd. Permission to use quotations from this article is granted subject to appropriate credit given to www.shipsandports.com.ng as the source.