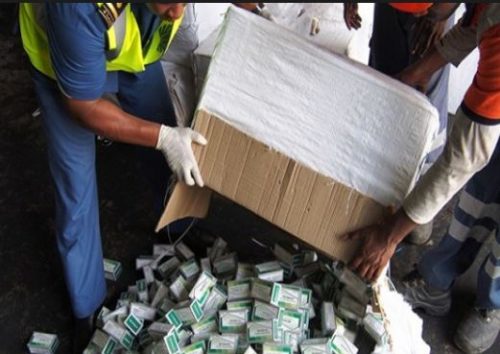 The Nigeria Customs Service and the National Agency for Food, Drug Administration and Control (NAFDAC) among other sister agencies demonstrated commendable cooperation last week when a total of 58 containers of tramadol and other illicit drugs worth N14.7 billion were destroyed.
The illicit drugs, which were intercepted by Customs operatives at the various Customs formation in Lagos, and other part of the country, was said to be first and largest in recent times being destroyed by the Service.
The illegal importation and use of tramadol, a psychotropic drug and opiate derivative, has remained high in the country following the ban on codeine syrup by the Federal Government due to its abuse by youths and devastating effects on those addicted to it.
Tramadol is a synthetic opioid analgesic used to treat moderate and severe pains. In prescribed doses, it has no negative effects on the respiratory system, but an overdose causes arrhythmias, cramps, coma and even death.
The approved milligram for tramadol according to Director, Registration & Regulatory Affairs of NAFDAC, Monica Eimunjeze, is 50 and 100 while higher milligrams of above 100 are prohibited.
However, from available records, the tramadol tablets so far seized by Customs are purely illicit as they come in various dosages ranging from 120 to 250 milligrams.
Like codeine, many Nigerian youths are also now addicted to tramadol, with many increasingly disposed to committing violence and other anti – social vices. In fact, the rising cases of violent crimes in Nigeria including robbery, kidnapping, banditry and other associated crimes have been attributed to the effect of consumption of tramadol and other illicit drugs by youths.
Speaking at the flag off of the destruction exercise at the Sagamu dump site, last week, Comptroller General of Customs, Hameed Ali, lamented the harmful effect the seized drugs would have caused if it had gone into circulation, stating that the money that could have been channel for the welfare of the citizenry is rather been wasted. 
"The menace of such drugs in our society cannot be underestimated having caused huge negative impact both on our economy as a whole and the depreciation and danger to human life.
"I call on all and sundry to assist officers of the Nigeria Customs Service and other relevant security and regulatory agencies by providing real time information at all times to help fish out the perpetrators of this negative act of smuggling dangerous drugs and bring them to justice," Ali who was represented by the Assistant Comptroller General of Customs in charge of Zone 'A', Kaycee Ekekezie. 
Despite the adverse health effect of abusing tramadol, illegal importation of this drug into the country, most of which are organised crime perpetrated with the backing of rich and powerful persons, has remained unabated.
In November 2018, the Service seized 51 containers load of tramadol from the Lagos ports in one week. The 51 containers had a Duty Paid Value (DPV) of N10. 43billion.
While 40 containers were seized from the Lagos Port Complex, Apapa, another 10 container were intercepted by the Tin Can Island Command and one container intercepted by the Federal Operations Unit, Zone (FOU) 'A', Ikeja, Lagos. Nine containers of the illicit drug were also intercepted at the Onne port.
The latest seizure of tramadol was recorded penultimate week when the Apapa Area command foiled attempts by some suspects to smuggle 10 cartons of 225mg tramadol tablet valued at N2.8 million out of the Apapa port, using an ambulance, which belong to Medbury Medical Services- an industrial medical service provider. 
According to the Controller of the command, Comptroller Muhammed Abba- Kura, "An investigation into the source of the stolen tramadol revealed that they were pilfered from a container waiting for examination inside the port. Physical examination further revealed that 211 cartons were missing from the container. The Duty Paid Value of the drugs stands at N59.4 million."
The high number of containers seized by Customs between 2018 and 2019 no doubt highlights the scale of Nigeria's opioid abuse problem. 
Beyond the inter agency cooperation and intelligent sharing between Customs and NAFDAC, which led to the seizure and destruction of this harmful substance, industry stakeholders said the issue of tramadol has evolved over the years to a point where the Federal Government needs to take a decisive stand against importation of this illicit drugs from India.
According to the stakeholders, there is little Customs can do to sustain the fight against importation of tramadol and other illicit drugs, if the Government fails to empower the Service to track unwholesome imports from country of origin before they are imported.  
This is because, unlike several other opioids, tramadol is not internationally regulated. The lack of international regulation means tramadol production and distribution has gone unperturbed in countries like China and India, which have become leading global exporters.
Speaking with SHIPS & PORTS, President, National Council of Managing Directors of Licensed Customs Agent, Lucky Amiwero, urged the Federal Government to be serious about stemming the illegal importation of tramadol and other illicit drugs into the country.
Amiwero said by now, government ought to have signed the Mutual Administrative Assistance Convention with India and China to enable Customs have fore knowledge of all exports emanating from the two countries before the arrival of the consignment into the country.
Amiwero also advocated the need for government to deploy scanners to enhance checks and security at the ports.
He said, "If we have a country that is blind, they will be blind forever. We cannot continue to import a blind importation. No country is doing what we are doing today. In America, before things come in, they are aware of what is coming in. We don't have tracking facilities or scanners at the ports and so we import what we don't know. Nigeria is a contracting party to the SAFE framework which said there should be inbound and outbound inspection on cargoes which means scanning must take place inside and outside. But we don't have scanning inside neither do we have outside. It is all about security. We are vulnerable because we are the market.
"Imports today are not for revenue, but for security. Customs is taking a lot of risks. It is a blind inspection that we are involved in. You bring in goods; you don't know what is coming into your country and you only come here to inspect it that is why a lot of things are going wrong. We just have to be serious as a country. In what countries in the world do you work without scanners and tracking systems these days? In Ghana, they have satellite tracking system, they have scanners. Most of the Customs officers are detained in prisons because of ammunition they cleared, most of which is not their faults.
"We need to encourage government to make sure they have facilities and tools to do their jobs. They sign treaties but they don't comply with it. Have they complied with the SAFE Framework they signed? We must be serious as a nation. What they are doing now is not the best for the country. Customs is taking too much risk and government should be serious. We cannot spend this number of years and we don't have scanners. That is the problem. Customs is working with their bare hands and it is big risks."