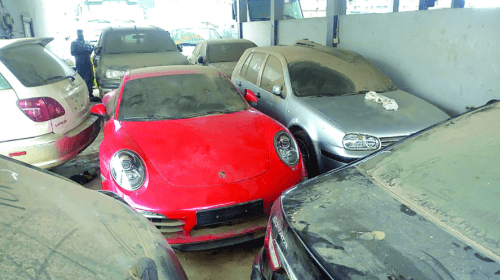 The Comptroller General of Customs, Hameed Ali, has explained why the various Customs warehouses across the country are flooded with seized vehicles wasting away without being auctioned. 
SHIPS & PORTS had reported exclusively penultimate week that the Service had converted its training college at Ikeja to a warehouse owing to lack of space at the designated government warehouse.
Speaking in Lagos last week while responding to questions on why most of the vehicles were abandoned to rot away, Ali explained that seized vehicles are not automatically forfeited to government but have to go through court processes necessary for their disposal.
He said the court processes take longer time than necessary, which explains why the seized vehicles are left for long at the warehouse.
He said, "Nigerians must understand that the fact that we effect seizure does not automatically mean forfeiture. We go through a legal process to get it forfeited to government before we can dispose it. Sometimes, it takes longer than necessary for us to get them forfeited by the court.
"That is why you see some of these cars remain here for many months because we have to go through the court. We first detain the vehicles, we then issue seizure notice and if the person cannot defend the vehicle ownership, we will go to court. It is then left for the court to either grant it at a go or take their time.
"So sometimes, the procedures take longer and that is why you see some of the vehicles here. It is not our wish that we keep them any longer than necessary, but we have to go through the judicial process, get forfeiture before we begin the process of auctioning them."
Meanwhile, Ali has blamed the continued incidents of smuggling in the country to the porous state of its borders.
He said despite the partial border closure, contraband goods including rice and vegetable oil still find their way into the country.
Ali said Customs officers do not have the capacity to man the over 4,070 kilometers of Nigeria's land border as they are not magicians.
"The borders are closed but it is not like we have sealed them. We know that the borders are porous, we have 4,070 kilometers of land borders and we have unapproved route and our men cannot be everywhere. 
"Because Nigerians are hell bent in smuggling some of these contraband items, they take every risk and every route, some through the creeks in the night and bring these things into the country. 
"That is why we have three layers of commands that we have established. First are the area commands, which are the first vanguard, then we have the enforcement and the strike force, who act strictly on intelligence. These are necessary for us to be able to intercept these things.
"So what we are telling Nigerians is that even if you feel you have succeeded in crossing the border, the fact that you have found yourself in Lagos, does not mean you are free, we are still going to go after you," he said.