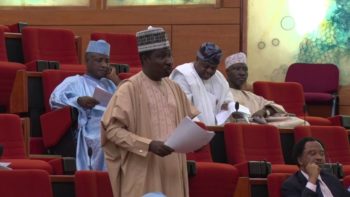 The senator representing Kano North, Kano State, Jibrin Barau, has denied the allegation that the Nigerian Customs Service (NCS) seized 13 vehicles from his residence.
Bala Dole, Zonal Commander of Customs task force, had said some vehicles were trailed from Maigatari in Jigawa, following an intelligence report.
"Based on the intelligence report— the vehicles were 30— we were able to trail 13 of them, 12 of which were hidden in the Senator's compound," said Dole, who refused to disclose the identity of the Senator. "We sealed the house and retrieved the vehicles and they are now in our custody."
But speaking on the floor of the Senate, yesterday, Barau claimed that the said seizure never happened, and appealed to his colleagues to wade into the matter.
He said: "I woke up this morning (yesterday) and saw a headline that 13 Hillux vehicles, for which duty has not been paid, were found in my residence, and that my house was sealed. This never happened.
"I was with my constituents in my house and no Hillux vehicle was in my house. This is terrible; this is bad for democracy.
""My privilege has been abused and I feel very sad. I am wondering why this is coming at this time. This is very sad and I call on the Senate to wade into this matter."
The Senate President, Dr. Bukola Saraki, referred the matter to the Committee on Ethics and Privileges.