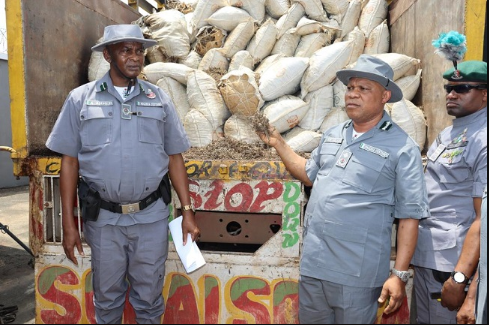 The Federal Operations Unit, Zone C, Owerri, of the Nigeria Customs Service intercepted contraband goods valued N2.8 billion between January 25 and March 25. The unit also arrested 13 suspected smugglers during the period.
The Acting Controller of the zone, Kayode Kolade, a Deputy Comptroller of Customs, made the declaration on Wednesday in Owerri when he addressed newsmen.
He said the value of the goods intercepted was N2.7 billion, while the balance of N61.4 million was for demand notices it raised based on some infractions.
He listed the seized items to include five sacks of pangolin scales, 398 sacks of Indian hemp, weighing 8,756kg and another 2,308 compressed parcels of Indian hemp of 1kg each.
Others seizures were 2,600 bottles of codeine-based cough syrup packed in 26 cartons, three exotic bulletproof vehicles, 931 jumbo bales of second-hand clothing and 484 bags of smuggled rice.
Also intercepted were 31 cartons of various medicaments including tramadol; 32 jerry cans of petrol and 540 pieces of used tyres.
"After reviewing and re-jigging our operational modalities, the unit intercepted contrabands with a duty paid value of N2.8 billion between January 25 and March 25.
"Remarkably, the five sacks of pangolin scales weighing 413.1kg and the 11,064kg of Indian hemp are the highest, if not arguably the first seizure of such endangered species and hard drugs in the history of the zone.
"Effort towards combating illicit trade in endangered species is to ensure that such animals don't go into extinction.
"Nigeria, a signatory to the Convention on International Trade of Endangered Species categorises the scales under absolute prohibition making its importation or trade illegal,'' Kolade said.