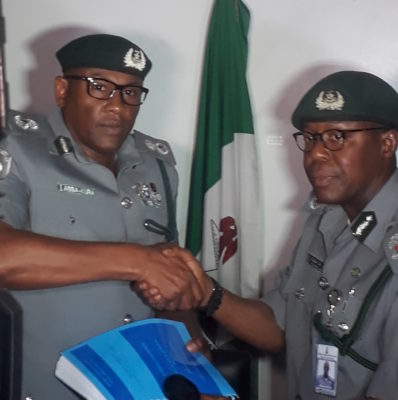 The Apapa Area Command of the Nigeria Customs Service (NCS) said it has generated N60 billion and intercepted 24 containers of tomato paste and vegetable oil worth N200.8 million at the Lagos Port Complex, Apapa.
Outgoing area Controller of the command, Assistant Comptroller General of Customs (ACG) Bashar Abubakar disclosed this on Monday while handing over to the newly appointed Controller, Comptroller Muhammed Abba-Kura.
He said the contraband items were seized between January 1 and March 14 this year. 
He said despite the lull in business activities due to the just concluded general elections, the command recorded N60 billion as revenue generated from imports including N763 million on export within January and February, 2019.
Abubakar, while admonishing the officers to build on the successes already achieved under him, appealed to them to give the new Controller all the support and collaboration needed to keep the command in its position as the flagship command.
He said, "To the officers and men of the Apapa Area Command, you are the best team ever. I plead that you put into practice all our resolutions and build on the successes already achieved by the command."
In his remarks, Comptroller Abba-Kura promised to sustain the tempo of revenue generation and anti-smuggling drive at the command.  
He said, "I am going to build on the foundation already laid by my predecessor. I know officers of the command have tried very well with the achievement you have recorded but there is need for more improvement by tightening your belt. You should brace up for more hard work. This is going to be the beginning of hard work, so be prepared."
Abba-Kura also charged importers and agents to increase their level of compliance to trade regulations to fast track the processing of their documents.
"To the stakeholders, I want to urge them to be compliant. As long as they carry out their transactions according to the rules and regulations, they will not have any problem. If you have any declaration, make honest declaration of all the content you have in your container, then there will be no issue and that would facilitate trade. But as long as they are not making honest declaration, then they will have issues," he said.