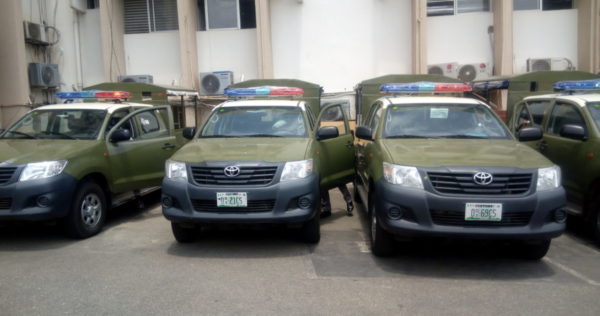 The Nigeria Customs Service (NCS), on Monday, handed out the first batch of 20 Toyota Hilux Patrol Vehicles out of the 50 patrol vehicles it took delivery of, for anti-rice smuggling patrols.
The Deputy Comptroller-General (Enforcement, Investigation & Inspection), Aminu Dangaladima made the disclosure to reporters at the Customs headquarters in Abuja.
The Federal Executive Council last week Wednesday approved the contract for the procurement of 68 new pick-up operational vehicles for the Nigeria Customs Service.
According to the Finance Minister, Kemi Adeosun, the purchase of the operational anti-rice smuggling vehicles is to check the persistent smuggling of rice into the country.
Aminu said, "We appreciate the support of President Muhammadu Buhari and wish to restate our determination to do all it takes to ensure the actualization of the Federal Government Agricultural Policy for National Food Sufficiency by crippling rice smuggling.
"We are aware that apart from the 50 already supplied, approval has been given for another 68 patrol vehicles in addition to 70 patrol vehicles being purchased for the joint rice task force.
"These unprecedented approvals making a total of 188 patrol vehicles in record time by the FG is the needed motivation to go all out and win the war against smugglers.
"For the avoidance of doubt, compliant traders have nothing to fear as our offensive will only be targeted at unpatriotic and non-compliant trans-border traders.
"In line with the directive of the Comptroller-General of Customs, Col. Hammed Ali (Rtd), I urge all Customs Area Comptrollers to ensure proper use of the vehicles to root out smuggling activities in their Commands."
The DCG, alongside other officials of the Service, took reporters round the vehicles to inspect and authenticate its functionality and soundness. Asst. Compt. Kolade Kayode (Dep. National Coordinator, Strike Force) received the vehicles from DCG Aminu Dangaladima.
He appealed to the members of the public, especially the border communities to support the Service by providing useful information that will help nip smuggling in the bud.