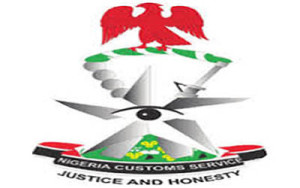 The Ogun Area Command of the Nigeria Customs Service (NCS) has impounded a petroleum tanker and 25 other vehicles loaded with imported smuggled rice along Idiroko axis.
Area Controller, Comptroller Gangua Hassan said the command also intercepted a trailer carrying an about 500 bags of rice along the Lagos-Sagamu interchange.
Conducting journalists round the seizure at Idiroko yesterday, Gangua said the smuggled rice with yet-to-be-determined value was being transported to the Eastern part of the country.
"Since I resumed office, I can make bold to say that the command has recorded significant successes and have greatly improved on its anti smuggling profile with the magnitude of seizures made so far.
"On15th November 2016; barely 24 hours after my arrival, our gallant officers arrested one petrol tanker filled to capacity with imported rice along the Idiroko axis of the command.
"The arrest was also made of 25 vehicles loaded with smuggled rice along the same route.
"In another development, on the 21st November 2016, my officers intercepted one trailer carrying an estimate of about 500 bags of rice along the Lagos-Shagamu interchange," he said.
He said three suspects namely Anthony Nwapa (60), Osunkwo Chukwu (32) and Hyginus Igbokwe (39) have been apprehended in connection with the seizure while preliminary investigations are ongoing.
He said in addition to the rice seizures, the command also impounded 19 motorcycles used by smugglers to convey smuggled goods and four vehicles with 4,000 smuggled poultry products.
He noted that with the yuletide season fast approaching, smuggling activities tend to be on the increase.
He however assured that the command is up to the task of combating the nefarious activities to the barest minimum.