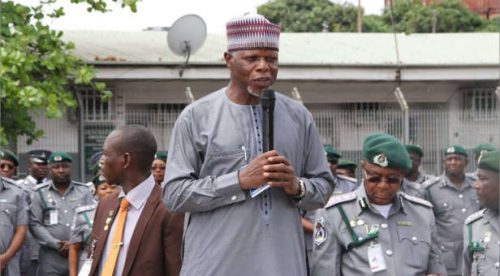 Clearing agents operating at the nation's seaports have reacted to the decision of the Comptroller General of Customs, Hameed Ali to decentralise the controversial CG Strike Force.
The Customs management had in a short circular signed by the Deputy Comptroller in charge of Enforcement, Investigations and Inspection, Augustine Chidi last week, announced the appointment of three Deputy Comptrollers to head the task force in Zones A, B and C.
The disbanded task force hitherto headed by Deputy Comptroller Abdulahi Kirawa that covered the whole country was directed to hand over to the new decentralized body while Kirawa was redeployed to Katsina Command where he once served before he took over the leadership of the Strike Force.
According to the new structure, Deputy Comptroller Idris Dal, formerly of Bauchi/Gombe Command takes charge of Zone A based in Lagos; Deputy Comptroller Kolobe B., formerly of the Eastern Marine Command, is to oversee Zone B based in Kaduna; while Deputy Comptroller Adamu A. M formerly of Western Marine Command takes charge of Zone C in Owerri. 
The development is coming barely three weeks after the Customs CG empowered the Strike Force to intervene right in the port and make seizures where necessary.
But speaking with SHIPS & PORTS, the Vice Chairman, Association of Nigerian Licensed Customs Agent (ANLCA), Apapa Chapter, Dom Onyeka, said the decentralization of the Strike Force will still amount to duplication of functions as operatives of the Federal Operations Unit still intervene in cargo clearance at the port.
He said, "I do not see the need for the Strike Force whether disbanded or not when we have operatives of the FOU. Even though in the past, they said they have made seizures but the FOU are still there making seizures.
"One unit outside the port to me is okay to checkmate release of illegal goods from the port but I don't see reason for multiplicity of units because at the end of the day, the delay experienced by the importers will amount to increase in cost of business, which will definitely get back to the consumers."
Also speaking, a frontline clearing agents, Frank Aliakor said, "If the Strike Force is still operating on a zonal level, it means they are still working because it is still the same thing as when they were working on a federal level. The Customs management should remove them completely on the road. If they want to do the work, they should join the resident officers in the port and do the same thing. 
"Staying on the road and stopping containers is unacceptable. It is not a convention that is obtainable in other countries."