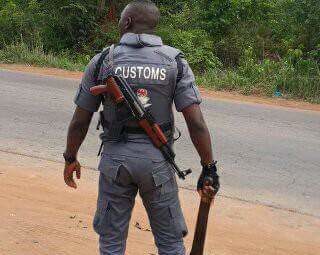 There was pandemonium at the Lagos Port Complex Apapa on Friday as officials of the Apapa Area Command of Nigeria Customs Service beat up some Nigerian Port Authority security officers at one of the port's exit gates. 
According to an eyewitness account, a Customs officer dressed in mufti had wanted to enter the port through the Dockyard Road gate to beat the usual gridlock that has characterized Wharf road in recent times. Using the Dockyard Road gate provides shortcut into the port and helps port officials avoid the congested and severely damaged Wharf Road. 
Those going in or out of the port through any point are usually required to identify themselves to NPA security officials before they are granted access. 
The Customs officer, whose identity is yet to be established, however, allegedly refused to identify himself and was consequently denied entry by the NPA officials. 
In the ensuing disagreement, one of the NPA security officials reportedly manhandled the Customs officer who was said to have been "extremely rude" and who had forced himself through the port gate. 
The Customs officer in turn put a phone call through to his colleagues who stormed the place, heavily armed, and beat up the NPA security officials. 
"This is the normal route we come to work everyday because of the gridlock. If you forget your identity card they will not allow you except you give them money. This cold war between Customs and NPA is becoming unbearable," the eyewitness told SHIPS & PORTS DAILY.
Public Relations Officer of Customs Apapa Command, Nkiruka Nwala confirmed the incident, which she described as unfortunate.
She said one of the NPA security officials arrested by Customs has since been released.