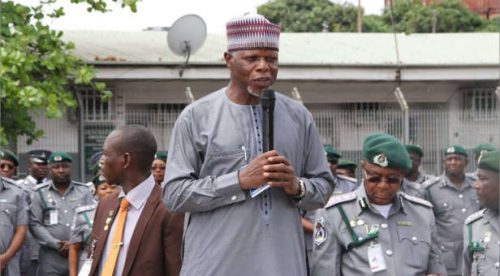 A former spokesman of the Nigeria Customs Service (NCS), Chris Osunkwo, has attributed poor salary and welfare package of Customs officers and men as reasons for the high level of corruption in the service.
Osunkwo who spoke in a chat with SHIPS & PORTS DAILY in Lagos stated it would be difficult for Customs officers to work under harsh conditions especially those posted at border towns without commensurate benefit and not compromise.
According to him, "Customs made N1.03 trillion in 2017. Last year, they increased it, they went up by N164 billion to hit N1.2 trillion and from N1.2 trillion we will be hoping that they will generate N1.5 trillion and even above in 2019. But after making all these monies, even at the risk of their lives, they have nothing to show for it.
"Every other day, they will be telling officers they don't want them to be corrupt and yet they make all this money and have nothing to show for it. If you go heaven and bring angels to come and work in Nigeria Customs under the same condition, there is no way you are not encouraging them to be corrupt. You can't beat a child and ask him not to cry. We are fighting corruption but we need to give honour to whom honour is due."
Osunkwo, who served as the Public Relations Officer of Customs Tin Can Island Port Command, Lagos, said with the performance of the NCS so far in the area of revenue generation, the issue of salary increase should have been addressed to motivate officers.
"While Customs is working, they are increasing police salary. What is good for the goose is also good for the gander. Customs deserves some encouragement too. Part of this money should be given to them to serve as a pat on their back so that they can do more. We know the importance of motivation in human lives so we don't have to pretend about it. Any organization desiring good results must not take motivational theories for granted.
"On daily basis, officers are killed at Idiroko and other border station. Just recently an officer was killed while another one was shot badly. What is government doing to encourage those still in service? Even cash disbursement into their salaries to serve as bonus as motivator is important, we know it is not in all cases that money motivates but then something should be done in that direction.
"Go to the Federal Inland Revenue Service (FIRS), it is happening there, Central Bank and other government revenue generating agencies. So why should Customs own be different? They should encourage them," he said.