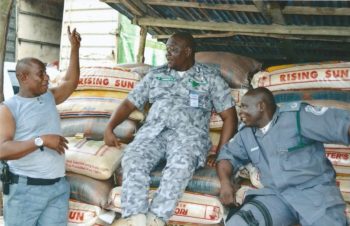 A Deputy Comptroller of the Nigeria Customs Service (NCS), Abdullahi Umar, on Sunday said Customs officers seized over 750 bags of rice and other prohibited goods estimated at over N52m in Kwara State after clashes with smugglers.
He added that some smugglers and residents attempted to lynch some of the operatives, who, however, escaped by a whisker.
Umar noted that smugglers at border areas had become more daring and had devised means to evade arrests.
He said the NCS was making efforts to improve on trade facilitation and revenue generation.
According to him, the NCS generated about N400m from excise duties in March, and N100m from vehicle duties within two weeks.
He said, "What we have seized are enormous. There are over 750 bags of rice in our custody. We have seized goods worth millions of naira. All our warehouses are filled up; we do not even have where to put seized goods now."
The state Public Relations Officer, NCS,  George Onuma, warned against smuggling of second-hand tyres, frozen turkey, rice, vegetable oil and spaghettis.