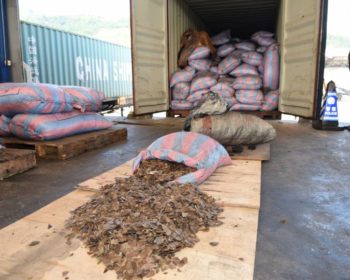 Operatives of the Nigerian Customs Service (NSC) have intercepted elephant tusks and pangolin, worth about N1.2 billion, between Feb.15 and March 22.
The Minister of Environment, Alhaji Ibrahim Jibril, made this known on Thursday in Abuja at a one-day workshop on how to combat illegal wildlife trade and international trade in endangered species of wild fauna and flora.
The workshop was put together by Wildlife Conservation Society (WCS), in collaboration with the Federal Ministry of Environment.
Jibril was represented by the ministry's Permanent Secretary, Malam Shehu Ahmed.
He said: "On Feb.15, the Nigerian Customs intercepted and seized 55 sacks of pangolin and 218 pieces of Elephant tusks worth N493, 520,000.
"In less than a month later, the service intercepted and confiscated another 329 sacks of pangolin scales, weighing 8,492kg, valued at N732,857,393.
"The wild animals and their habitats have since been subjected to enormous pressure through over-exploitation, trade and irrational use to the extent that many of the animals are now threatened.
"But even more worrisome is the fact that Nigeria is being used as a transit route for illegal wildlife trade and the image of our nation is being destroyed."
The minister said that the Federal Government was taking necessary steps and measures to protect and promote sustainable use of the terrestrial ecosystem, while sustaining programmes aimed at curbing forest management, combat desertification, land degradation and loss of biodiversity.
He said: "I am highly delighted to address you at this important workshop and the ministry is highly impressed by your prompt response to this call to national duty.
"We will all make efforts to reverse the trends that are capable of destroying Nigeria's rich biodiversity, denying our nation the full realisation of its economic development potential''.
Jibril said the disappearance of many high-grade timber species like Iroko, Ebony, Brown Mahogany and African Oak, among others, was worrisome.
"The State Department of Forestry is now searching endlessly to find some of these endangered species through what is now regarded as tree exploitation or salvage logging,'' he said.
"The ministry has programmes that constitute the framework for a dynamic, evolving process for cooperation among stakeholders.
"These programmes are catalysts for the involvement of entire society and point of reference for all agents involved in the process of conservation of nature to ensure environmentally sustainable development in the country."
Paul Dunn of Wildlife Conservative Society (WCS) in his presentation, said that the workshop was designed to address the menace of the illegal wildlife trade. 
Copyright Ships & Ports Ltd. Permission to use quotations from this article is granted subject to appropriate credit given to www.shipsandports.com.ng as the source.