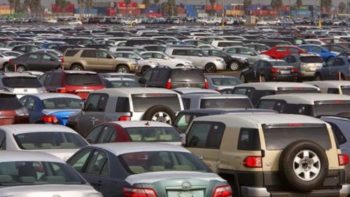 The Nigeria Customs Service (NCS) says it is set to issue licences for inland bonded vehicle terminals in the country. The Public Relations Officer of the service, Joseph Attah, disclosed this in Abuja on Tuesday.
Attah said that the licence was for motor dealers and any interested persons that wanted to operate inland bonded vehicle terminal in Nigeria.
He said that interested applicants should have a large plot of land and fenced before he or she could apply.
"The coming into effect of this bonded vehicle terminals apart from securing government revenue, it will also provide job opportunities for our teeming youths.
"Security is guaranteed because unlike smuggling, these vehicles come through the bushes across the border which sometime you don't even know what these vehicles carry inside the country.
"These vehicles are coming from the seaport, properly examined and escorted into the hands of the final users.
"Today customs is ready for this and any interested persons need to start by writing application through the Area Comptroller of the command where he wants to locate or site his bonded terminal.
"There is a bond, we call it bonded vehicle terminal, he will have to approach a bank and enter into a bond to the tune of N50 million, a bank bond of N50 million."
Attah said that the essence of the bank bond was to ensure that government revenue was secure, adding that a bond from any licensed commercial bank would be accepted by Customs.
According to him, before introducing bond terminals, the service has carried out studies to know that car park is the major thing that attracts some of Nigerian youths and car dealers to our neighbouring countries ports.
Attah said that the essence of the vehicle terminal was to strengthen businesses of car dealers and boost employment rate in the country.
The spokesman reiterated that the requirement to operate bonded vehicle terminals was formal application through the area command of the proposed terminal.
He said that an environment conductive for working was required, with computerised system that could be connected to Customs ICT.
He added that others were Certificate of Incorporation, Memorandum and Article of Association and current customs agent licence.
Attah said that an audited account of the company's current tax clearance certificate, bank recommendation, among others, were required to operate a vehicle terminal.
He said that with the help of a bonded terminal, an operator could import vehicle from any part of the world and manifest it as vehicle destined to any terminal within the country.
He said that on arrival at the seaport, customs officers would escort the vehicles to the dealer's terminal without payment of duty, adding that the vehicles would stay in his terminal at least 30 days without paying of duties .
"Customs will establish an outpost within each of these terminals; if any customer comes and buys a vehicle, he will simply pay duty at the customs outpost located in that particular terminal.
He said that wherever the terminals were commercial banks would begin to open branches because of the volume of commercial transaction that would take place.
According to him, the vehicle terminals will create job opportunities, ensure security and enhance revenue generation.
The policy of banning importation of vehicles through the land borders took effect on Jan.1.
Toward the end of January, customs and the Association of Motor Dealers of Nigeria met to discuss the modalities on how to operate inland bonded vehicle terminals in the country.
Copyright Ships & Ports Ltd. Permission to use quotations from this article is granted subject to appropriate credit given to www.shipsandports.com.ng as the source.