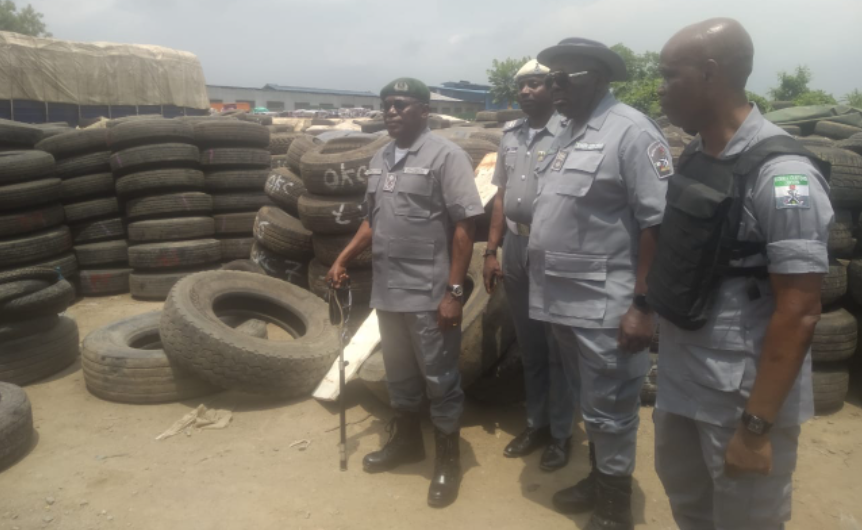 The Federal Operations Unit (FOU) Zone 'A' of the Nigeria Customs service (NCS) over the weekend swooped on a massive stockpile of recently imported used tyres at a location off the Redeemed Christian Church of God in Mowe, Ogun State.
Addressing newsmen, FOU Ag. Controller, Hussein Ejibunu, said the unit got an intelligence on the stockpile and ordered men and officers of the unit to swing into action.
"You can see they are being packed in sizes; each size has one or two tucked into one. Used tyres fall under import prohibition list that should not be imported Nigeria," he said.
"It is important to let us know that smugglers are into different businesses in different facets. For someone to have these quantities, obviously it could not go to the market, it could be retreaded, but investigation will reveal that.
"Equally, down there, there are few bales of used clothing, obviously to be ferried somewhere in Nigeria. It is heartrending to see that some unscrupulous Nigerians want to turn Nigeria into dumping ground. It is not good for our economy and it is not good for our health."
He restated the resolve of the NCS to reduce smuggling to the minimum in the country, adding that smuggling is killing the nation's economy and causing health hazards for Nigerians.
"We as agencies of government are resolute and determined to fight this scourge of smuggling. Some credible intelligence led us to unravel this. This area is some kilometres from the Redeemed Christian Church of God along the Lagos Ibadan Expressway at Mowe.
"Though no arrest has yet been made, he assured the unit will get the details of a container laden with brand new tryes, which was still in the premises, "and through this container we will link the owner of this place," he said.
Ejibunu assured that the seized tyres would be destroyed after the due process and procedure.