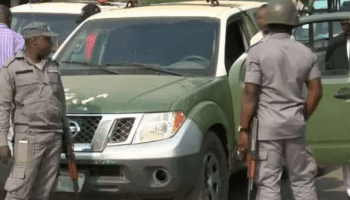 There was pandemonium at Ihunbo, Ipokia Local government area of Ogun State, on Monday when a Customs vehicle reportedly killed a student of Ojomo Community high school while conveying seized vehicles. 
A resident of the town, Rasheed Biliamin who condemned the incident said Customs officers should be mandated to stay at the border and not roaming the town killing innocent lives.
He said, "The live of an innocent boy has just been cut short by overzealous officers. They should be allowed to stayed at the border and stop killing innocent Nigerians."
When contacted, Public Relations Officer of the Ogun area command, Abdullahi Maiwada confirmed the incident, which he described as unfortunate. 
He said contrary to some media reports, the incident was an accident and not a case of officers pursuing smugglers or a stray bullet.
According to him, the patrol vehicle had an head -on -collision with a motorcyle (okada rider) while conveying the seized vehicles.
"It was actually an accident that happened and not a stray bullet or officers pursuing smugglers. We made a seizure in the bush and it was while the officers were conveying the seizure at Ihunbo that the incident happened.  It was their market day and in the process of coming off the road to navigate towards idiroko, an okada rider had a head-on collision with the officer driving the tokunbo vehicle that was seized and while the officer was trying to make away from the okada rider, in the process, he hit some school students. One person died and two were hospitalized. We will like to commiserate with the family that lost their son. 
"We are collaborating with other security agencies to calm the situation and restore peace back to the community," he told SHIPS & PORTS.