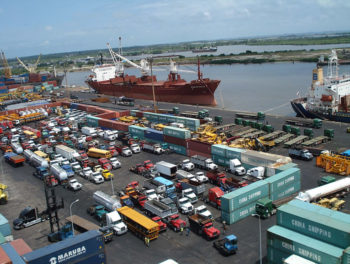 The realization of 24-hours clearance of goods at the port and implementation of Acting President Yemi Osinbajo's Executive Order may still be far off, as the Nigeria Customs Service (NCS) has identified the poor state of the roads leading into and out of the ports in Lagos as a major obstacle to port operation.
Public Relations Officer, Apapa Area Command of Nigeria Customs Service (NCS), Nkiru Nwala in a chat with SHIPS & PORTS DAILY said while the command has commenced shift operation in compliance with the executive order, it has been difficult for cleared cargo to exit the port due to gridlock, which extends to the port gate.
"What will agents come to do in the night when the one they cleared at the day time have not gone?
"The major challenge to 24 hours is the road. Even cargoes released during the daytime takes days to pass because of the bad road and the situation is even made worse with the rain.
"Every stakeholder is keying into the 24 hours operations but not until the roads are fixed, it is still going to be much of a challenge," she said.
National Publicity Secretary, Association of Licensed Customs Agent (ANLCA) Kayode Farinto however noted that apart from the poor access roads, clearing agents will not be able to turn in to clear their cargoes at night majorly due to security issues.
According to him, containers are constantly waylaid on the roads at Tin Can Island and Apapa, serving as a disincentive for importers and clearing agents to work at night.