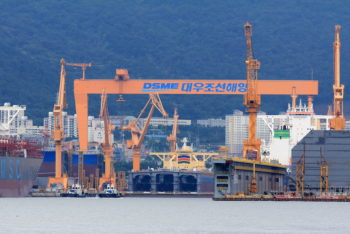 For the first time since 2011, South Korean shipbuilder Daewoo Shipbuilding and Marine Engineering (DSME) has recorded a profitable financial year. 
The company recorded a net income of KRW 669.9 billion (USD 629.7 million) in 2017, compared to a loss of KRW 2.79 trillion posted a year earlier, DSME said in a stock exchange filing.
In addition, operating profit stood at KRW 773 billion in 2017, against an operating loss of KRW 1.53 trillion seen in the corresponding period a year earlier.
The improvement, according to the company, was due to a restructuring plan which has focused on reducing labour and other costs and creating an efficient production system.
DSME revealed it will continue with its self-rescue plan in 2018, which is worth KRW 1.3 trillion.
Despite the profit increase, sales amounted to KRW 11.1 trillion, dropping 13.4 percent year over year. This was due to a turmoil in the shipbuilding industry caused by a drop in orders due to overcapacity.
In 2018, DSME expects to generate KRW 10 trillion in sales and USD 7.3 billion in orders.