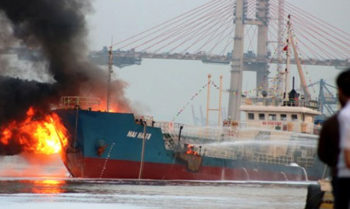 There was pandemonium at a Vietnamese port on Saturday as a tanker ship berthed at the port went up in flames. 
The Hai Phong Port Authority, which disclosed the fire incident, identified the stricken ship as "Hai Ha 18". The ship was loaded with a cargo of 900 cubic meters of A92 petrol, which was being pumped out when the fire broke out. 
The burning ship was out of the port to "the other side of the river to prevent the spread of the fire to neighboring areas" while firefighting efforts continued, Hai Phong Port Authority added.