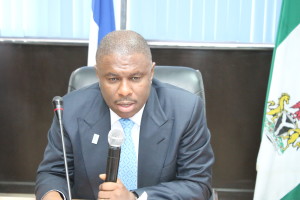 A new partnership recently formed by the Nigeria Maritime Administration and Safety Agency (NIMASA) and Nigerian Content Development and Monitoring Board (NCDMB) is designed to deepen local content in the marine sector.
The partnership is promoted by the Executive Secretary of NCDMB, Engr. Simbi Wabote and the Director General of NIMASA, Dr. Dakuku Peterside.
The management of these two agencies set up a joint committee in Lagos recently to reconcile their overlapping functions and achieve the objective of capital retention and in-country value addition in the marine sector of the oil and gas industry.
The inauguration of the committee was performed by Wabote and Peterside who was unavoidably absent but ably represented by NIMASA Executive Director, Administration and Finance, Alhalji Jimoh Bashir.
Analysts say the new partnership being forged by the two agencies will ensure that Nigerians take full advantage of opportunities available in the marine services sector of the oil and gas industry.
It will be recalled that section 105 of the Nigerian Oil and Gas Industry Content Development Act (2010) states that "NCDMB in conjunction with NIMASA shall have powers to enforce compliance with relevant Sections of the Coastal and Inland Shipping Act (Cabotage Act) in relation to matters pertaining to Nigerian Content Development."
The NOGICD Act also provides for first consideration for Nigerian goods and services, and stipulates targets from 45 percent spend on supply vessels to as much as 90 percent spend for supply of Very Large Crude Carriers and Towing of Oil and Gas infrastructure.
At the inauguration, Wabote affirmed that the joint committee will ensure that operators in the sector will be unable to play one agency against the other and get away with non-compliance.
He stressed that Nigerians can only benefit from opportunities in the sector if regulatory agencies like NCDMB and NIMASA discharge their statutory functions effectively.
Some of the opportunities for Nigerians in the marine sector include vessel building, maintenance, manning, support services like insurance, legal, and catering among others.
Speaking further, Wabote listed focus of the committee to include defining appropriate documentation that will ascertain ownership of vessel and authentication of NIMASA vessel ownership documentation. The committee will also examine the effect of Temporary Import Permit on marine vessel ownership and come up with strategies that will encourage collaboration on promotion of investment in vessel construction, repairs and maintenance capability. Other subjects include maritime training, sea- time and certification for Nigerians and proliferation of expatriate crew on vessels working in Nigeria.
Earlier in his welcome address, Director General of NIMASA recalled that the collaboration between the agencies predated the passage of the Nigerian Content Act, borne out of the realization that much could not be achieved in both sectors without collaboration.
Peterside underlined the significance of the Maritime and Oil and Gas Industry to the Nigerian Economy, stating that the need for collaboration is to forge a common front with a view to enforcing Local Content obligations.
"The bedrock of our collaboration with NCDMB is to close all gaps and loopholes that may be exploited to weaken the efforts of government by operators. We believe that with this inter-agency collaboration we will put the local capacity in place to achieve desired levels of value retention especially in the wake of anticipated investment opportunities," he added.
The NIMASA DG also listed focus areas for the committee to include drawing up modalities for a harmonized standard for categorization of marine vessel providers and other services and articulating manpower development framework involving NIMASA, NCDMB, PTDF, international oil companies, shipping companies and Nigeria's top academic training institutions especially in the areas of seafarers training, mandatory Sea-time opportunity for cadets, international certification, and skills pool model.
He also charged the committee to articulate a strategy for capacity building in terms of ship building, repairs and dry docking facilities and vessel survey and certification, training equipment and infrastructure and articulate strategies for development of fiscal and other incentives for Nigerian operators.