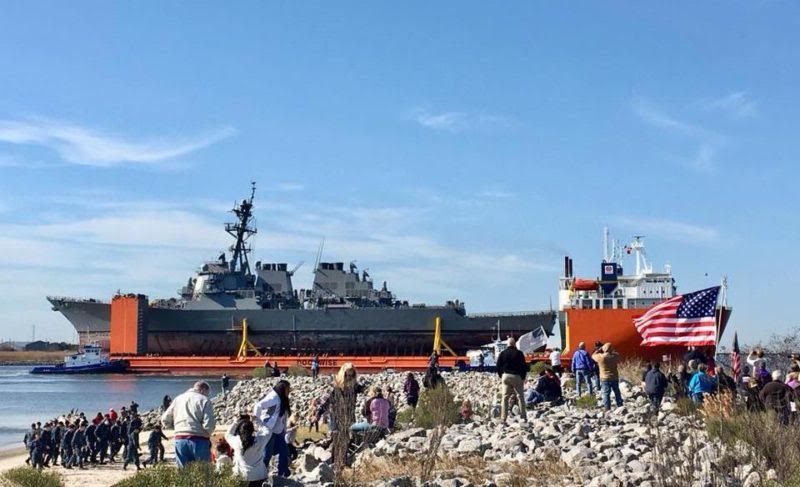 By Jite Eriabie 
The Arleigh Burke-class guided missile destroyer USS Fitzgerald arrived into Pascagoula, Mississippi on Friday where it will undergo repairs following its collision with a containership off the coast of Japan last June.
The vessel arrived aboard the heavy lift vessel MV Transhelf following a nearly 6-week voyage from Yokosuka, Japan via the Expanded Panama Canal.
MV Transshelf is transporting the Fitzgerald to Huntington Ingalls Industries (HII) shipyard Pascagoula, Mississippi, where the repairs will take place. The Fitzgerald will also receive modernization upgrades that were originally planned for installation during 2019.
Fitzgerald is expected to spend several days in the Port of Pascagoula as the heavy lift ship will begin the operation of unfastening, lowering and guiding the destroyer off the platform. The Fitzgerald will then be taken to its designated pier space at Huntington Ingalls Industries shipyard.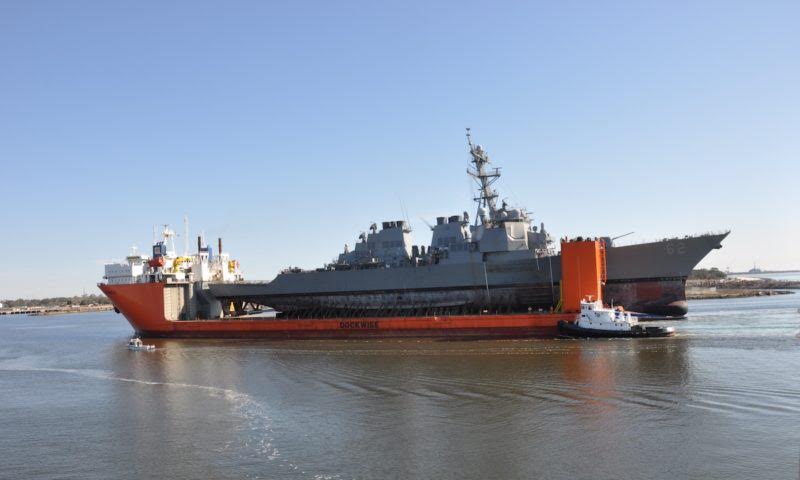 Fitzgerald returned to Navy's Fleet Activities Yokosuka base shortly after its June 17, 2017 collision with the merchant containership ACX Crystal off the coast of Japan. While there, it underwent a series of initial repairs and preparations for the on-load and transport, including dewatering, defueling, layup maintenance, hull and superstructure repairs.
The Fitzgerald's initial departure from Japan was initially delayed by a little over a week after a steel structure punctured the Fitzgerald's hull during the loading process.
On December 15, the U.S. Navy changed Fitzgerald's homeport from Yokosuka, Japan to Pascagoula, Mississippi to facilitate the repair process.
The Navy said on Friday that work on the ship is expected to occur on a land-level facility throughout 2018 and one to two quarters of 2019, followed by an extensive test and trials period to ensure all systems and spaces are restored to full functionality and operational capability.
The entire restoration and modernization of the ship is expected to be completed approximately 24-months post work commencement on the ship, the Navy said. The cost of the repair has not yet been disclosed.  
Copyright Ships & Ports Ltd. Permission to use quotations from this article is granted subject to appropriate credit given to www.shipsandports.com.ng as the source.