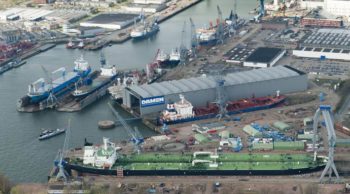 Damen Shiprepair & Conversion (DSC), part of Dutch Damen Shipyards Group, plans to lay off around 150 workers as part of its reorganisation program at three Dutch yards within its group.
The yards that will be restructured are Damen Shiprepair Rotterdam (DSR), Damen Shiprepair Van Brink (DSVB) and Damen Shiprepair Vlissingen (DSVl), Damen said in a release.
"All employees at the three locations, as well as the workers' council and trade unions, have been informed about the intention to reorganise. It is the intention of DSC to complete the reorganisation before summer 2017," the release added.
DSC explained that it has been "forced to take these measures due to continued adverse market conditions."
Namely, the downturn in oil and gas market has created a void in the company's activities which DSC was not able to fill with other type of projects. What is more, the projections for the short and medium term show no sign of recovery.
"There is no recovery in sight for commodity prices in general and oil and gas prices in particular and the resulting reduction in ship repair projects forces DSC to review its situation. Unfortunately, one of the consequences of this, is downsizing the number of permanent staff in all layers of the organisation, as well as reducing facility costs," the company pointed out.
Damen Shipyards Group operates 33 shipbuilding and repair yards, employing 9,000 people worldwide. In addition to ship design and shipbuilding, Damen Shiprepair & Conversion has a worldwide network of 16 repair and conversion yards conducting around 1,500 repair and maintenance jobs annually.
Copyright Ships & Ports Ltd. Permission to use quotations from this article is granted subject to appropriate credit given to www.shipsandports.com.ng as the source.