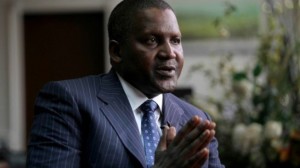 Business guru and Africa's richest man, Aliko Dangote has expressed optimism in the rapid economic recovery for Nigeria saying despite the downturn, the country would come out of it stronger as a self-reliant economic powerhouse.
Addressing a group of small and medium enterprises operators in Lagos  who met with him in Lagos during the festive period, Dangote urged Nigerians  to continue to join hands with the government in finding lasting solution to the problems, saying the country's economic situation will get better soon. He added that most countries in the world which have attained economic buoyancy have at one time in their history faced economic hardship.
"Thank God in our own situation, we know where the problem lies. We only need to muster the courage to apply solution. Nigeria needs to look inward and produce what we consume as opposed to incessant importation which takes away our forex.
"This is one of the fundamental problems of our country, we import just anything and the reality is dawn on us now that we have to change this habit, this is why the federal government has been emphasising the need to go back to agriculture and total manufacturing so that we also can produce what we need and even export rather than import," Dangote stated.
The business mogul also commended Nigerians for their resilience and doggedness even in the face of the prevailing economic challenges saying they have made sacrifices that would soon see the nation out of the woods.
Dangote said not until Nigeria becomes a producing nation and reduce import, her economy would continue to grope in the dark noting that his company would continue to take the lead in any sector that requires the nation to look inward.
He said Nigeria has no business with importation of some products, the production of which, the nation has abundant raw materials to produce. He gave an example of milk while lamenting that 80 per cent of milk consumed in Nigeria is imported, a situation he described as unacceptable, given that the nation has all it takes to produce milk locally and even feed other countries.
Dangote therefore promised that he would be venturing into diary production to reverse the trend saying Nigeria can produce the amount of milk needed for her citizenry.
He therefore urged the people to continue to be patient and cooperate with the government at all levels while all hands are on deck to bring Nigeria back to a path of sufficiency and economic buoyancy.
It would be recalled that the business mogul had indicated that his new $12 billion three in one project, the refinery, petrochemical and fertilizer plants currently under construction would create a minimum of 235,000 new jobs, both direct and indirect jobs, as it becomes operational in the first quarter of 2019.
Dangote is optimistic that there will be market for the refined products because even in Africa, only three countries have effective functioning refinery with others importing from abroad.
Copyright Ships & Ports Ltd. Permission to use quotations from this article is granted subject to appropriate credit given to www.shipsandports.com.ng as the source.