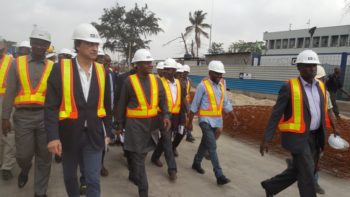 Businessman Alhaji Aliko Dangote on Wednesday visited the Ijora-Apapa Wharf road in Lagos, calling on the Federal Government to withdraw agencies causing the perennial gridlock in Apapa.
Dangote cited the presence of the Nigerian Customs Service and the Nigerian Navy on the road, noting that customs, especially was causing untold hardships to road users in its bid to collect revenue at check points.
The Apapa-Iganmu-Wharf areas have been on lockdown since the past three years and the problem appears to have defied every solution.
Dangote lamented that check points mounted by the customs, navy and other agencies was causing the gridlock, making life unbearable for motorists.
He said that the presence of customs men on revenue drive on the road was taking its toll on businesses and killing the economy of Lagos, Nigeria's economic hub.
"We are going to formally write to the government to withdraw all these task forces, especially the Federal Unit of the customs.
"If they want to set up a road block, I think this is the wrong place to come and set a road block.
"Customs should not be coming here and mounting a check point."
"We are pleading with government to remove all these task forces and leave just the police, LASTMA and the FRSC. These are the only three that we need.''
The tycoon assured that the Apapa-Wharf reconstruction project would be completed on schedule around June ending, saying that the work was progressing faster than he anticipated.
"Now, my impression has changed, AG Dangote is actually doing an excellent job."
He lauded the quality of work being funded by Dangote Group, Flour Mills of Nigeria and the Nigerian Ports Authority.
Dangote explained that utilities in the right of way of the project had initially slowed down work but that engineers had evolved a design that solved the problem.