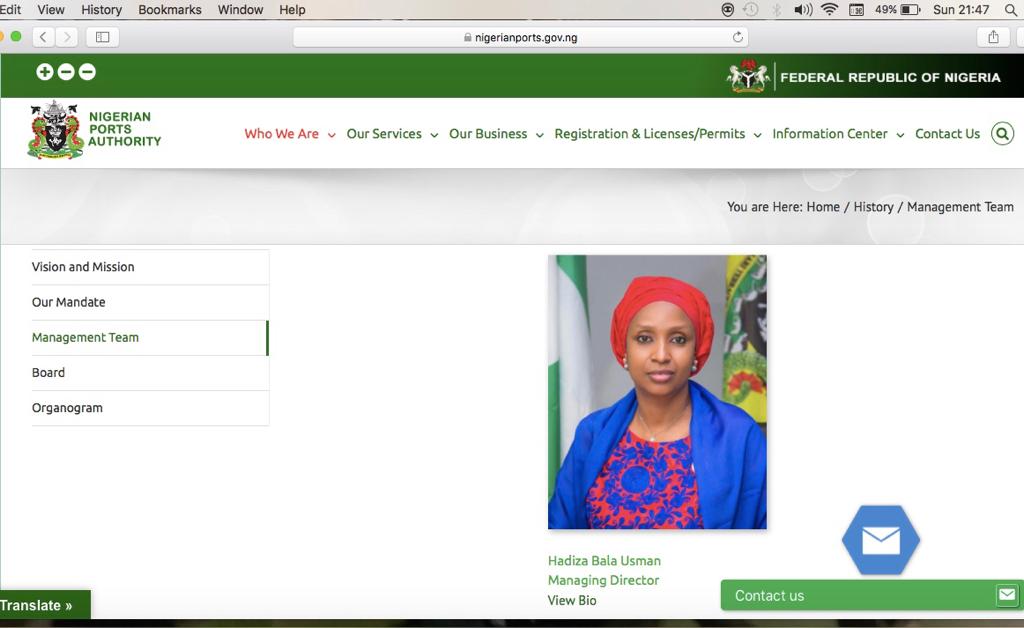 Two weeks after the suspension of Hadiza Bala Usman by President Muhammadu Buhari, the Nigerian Ports Authority (NPA), has retained her name and portrait on its website, referring to her as the substantive Managing Director of the agency, while the acting Managing Director, Muhammed Bello-Koko is referred to as the Executive Director, Finance and Administration.
To industry observers, the failure NPA'S public relations unit to update the website 17 days after Usman's suspension and Bello-Koko's elevation as acting Managing Director is a clear indication of its incompetence and inefficiency.
President Buhari had on May 6 approved the suspension of Bala Usman from office over alleged financial impropriety. The President also approved the setting up of a panel of inquiry to probe the suspended Managing Director.
President Buhari's approval was based on a letter sent to him on March 4 by the Minister of Transportation, Rotimi Amaechi, stating that the yearly remittances of operating surpluses by NPA from 2016 to 2020 was far short of the amount due for actual remittance.
Amaechi, whose Ministry supervises NPA, said the agency under Bala Usman had not been financially prudent in the management of agency's resources since her appointment in 2016.
A letter dated May 6, 2021 signed by the Permanent Secretary of the Federal Ministry of Transportation, Magdalene Ajani, conveyed the suspension to Usman.
The letter reads: "Consequent upon the approval of Mr President to constitute an Administrative Panel of Inquiry on the Management of Nigerian Ports Authority, I am to convey the approval of the Honourable Minister to request you to step aside as the Managing Director of Nigerian Ports Authority.
"In view of the above, you are required to hand over to Mohammad Koko (Executive Director, Finance & Accounts) with immediate effect.
"Please, accept the warm regards of the Honourable Minister."
After her suspension, revelations emerged of the embattled former MD's acts of insubordination, abuse of office and arbitrariness in termination of contractual agreement with investors at the ports.
SHIPS & PORTS had reported how NPA under Usman systematically destroyed its public relations unit through the appointment of retiring non-public relations personnel to head the unit.
The new General Manager in charge of NPA Corporate and Strategic Communications Department, Olaseni Alakija was deployed from the Risk and Enterprise Division with no experience in public relations.
Alakija, since the suspension of Usman, has not deemed it fit to issue any official statement acknowledging Muhammed Bello-Koko as the acting Managing Director of NPA.