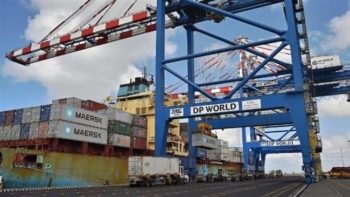 Doraleh Container Terminal will remain in state hands as the government seeks investment, a senior official said on Wednesday, in comments likely to reassure Washington where lawmakers say they fear it could be ceded to China.
The container port is a key asset for Djibouti, a tiny state on the Red Sea whose location is of strategic value to countries such as the United States, China, Japan and former colonial power France, all of whom have military bases there.
Djibouti last month terminated the concession of Dubai's state-owned DP World to run the port, citing a failure to resolve a six-year contractual dispute.
The cancellation accelerated diplomatic competition in Djibouti and renewed concerns in a number of capitals that other nations could use it to strengthen their influence.
The port would remain "in the hands of our nation" as the government seeks new investors, said Djibouti's Inspector General, Issa Sultan, who oversees infrastructure for President Ismail Omar Guelleh.
"There is no China option and no secret plans for the Doraleh Container Terminal," he told Reuters in an interview. "The port is now 100 percent managed by the state."
The top U.S. general for Africa told U.S. lawmakers last week the military could face "significant" consequences should China take control of the terminal. Lawmakers said they had seen reports that Djibouti had seized control of the port to give it to China as a gift.
In one measure of Djibouti's strategic value, Rex Tillerson visited the country last week in his capacity as U.S. Secretary of State. It was one of just five African countries he went to on a tour of the continent.
Tillerson, who was fired on Tuesday by U.S. President Donald Trump, urged the government to improve the investment climate.
DP World called Djibouti's move an illegal seizure. It said it had begun proceedings before the London Court of International Arbitration, which last year cleared the company of all charges of misconduct over the concession
The Djibouti government says the ports operator deliberately did not develop the container terminal and instead routed trans-shipments through its Jebel Ali port in Dubai.
"Our ultimate goal remains to invest strongly in the attractiveness of Doraleh and other port facilities in the country," Sultan said.
The port opened in 2009 and has a capacity of 1.6 million tonnes annually that was never met by DP World. In 2016, the company signed a concession to develop a rival port in neighbouring Somaliland.
"It became quite clear that DP World didn't want the port to be developed because it never did more that 50 percent of the capacity," Sultan said. "They were a constraint on the port activity."
DP World declined to comment on Wednesday, citing ongoing legal proceedings.
Weeks after cancelling DP World's concession, the state-owned company managing Doraleh signed a deal with Singapore-based Pacific International Lines to raise by a third the amount of cargo handled there.
In a sign of growing regional rivalries over DP World's investments, Somalia's parliament voted on Monday to ban the company. It also said DP World's concession to develop the port in the breakaway Somaliland region was void.
Agency Report