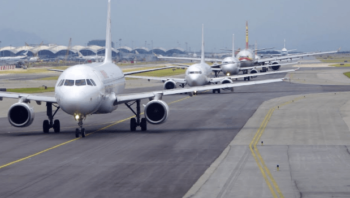 Domestic airlines in Nigeria have suffered a decline in passenger traffic as a total of 3,287,310 passengers were lifted in the first half of this year.
The figure, however, represents a 21 per cent decrease, compared to the 4,193,862 passengers airlifted within the period last year.
According to the Consumer Protection Directorate of the Nigerian Civil Aviation Authority (NCAA), the decrease is due to the current economic hardships in the country, which is affecting air travels adversely.
Records obtained from the NCAA show that only 45 airplanes are currently in active service out of the 74 planes in the fleet of the eight domestic airlines servicing Africa's most populous nation at present.
The airlines are Aero Contractors, Arik Air, Azman Air, Dana Air, Med-View, Overland, First Nation and Air Peace.
The top three performing domestic airlines in the first half of this year are Air Peace, which leads the performance chart with 6,715 flights, Arik Air 4,069 flights and Dana Air 3,261 flights.
But the flights operated by the airlines also declined by 28 per cent as they were only able to operate 21,662 flights in the first half this year.
The eight airlines collectively operated 30,100 flights within the first six months of 2016, according to NCAA records.
The drop in the number of flights operated by the airlines was not unconnected with the steady depletion of airplanes in the fleet of the airlines.