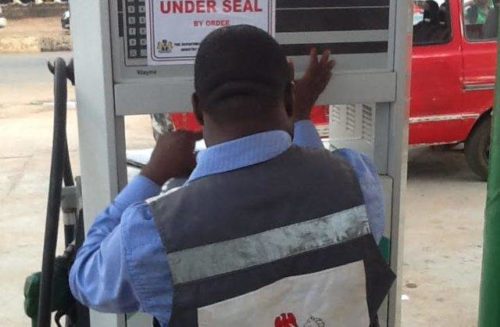 The Department of Petroleum Resources (DPR) has sealed three filling stations in Odukpani Local Government Area of Cross River State.
The filling stations were shut for selling petrol at N150 per litre against the government approved price of N145 per litre.
DPR Operations Controller in Cross River, Bassey Nkanga, who led his team on a surveillance of fuel stations across the state, said the stations were shut down for violating the seal order of the DPR.
He expressed dismay at the hike in price of the affected stations, saying they had no reason to hike the price when some stations were selling the product at N143 per litre.
Nkanga said that the stations will have to pay a fine of N1 million each for violating the `seal order'.
He said, "Any marketer that is caught cheating in any form, either selling above government price or adjusting the metre will be sanctioned severely. We have been doing this in the past two weeks and already some marketers have been sanctioned.
"If you have been a serial violator of the regulations, there is no guarantee that we will unseal your station for business to commence immediately if you pay the fine.
"The level of stability in the sector is nearly 100 per cent especially in Cross River Central and South. We will try our best to sustain this tempo of surveillance activities in all outlets.
"The initiative is a routine exercise. We are only intensifying the monitoring and surveillance activities to ensure that marketers do not take undue advantage of the yuletide period to hike the price."
Nkanga said as the yuletide season approaches, there is the tendency that people will want to take advantage of the period to dupe the public.
He said that DPR in Cross River was doing its best to create awareness and giving assurance to Nigerians that there will be stability in the sector, especially the downstream sub-sector during the yuletide.